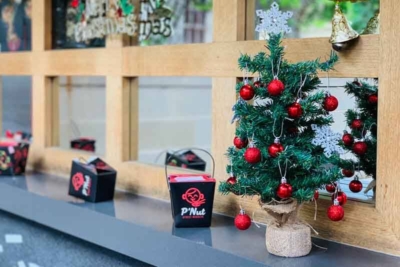 Tis' The Season For Giving:
It's the most wonderful time of the year, and at P'Nut we love to spread some joy and cheer!
On the 21stof December, the doors to our newest restaurant in Dee Why opened, with an aim to bring authentic flavours and hospitality of Southeast Asia to the Northern Beaches. Our goal at P'Nut Street Noodles is not to just serve the community with authentic noodles, but also to become a part of the local area and give back whenever we can. That's why it was a very easy decision for us to support a local charity, The Stewart House, by donating $5,000 during this holiday season.
Murray O'Donnell, COO of Stewart House was not expecting an early Christmas so imagine his surprise when the P'Nut team contacted him about giving this donation to help roughly 1,700 kids a year who come to stay at Stewart House.
Watch our CEO, Ankur Sehgal, and the staff of our Dee Why restaurant, on the Today Show here with Murray O'Donnell here talking about our common values as a company and donating the cheque to Stewart House.
Our act of spreading joy and giving didn't just end there, because it really is the time to give back, and we also wanted to do something special for our customers. For anyone that came to have a meal with us on Sunday the 23rd ofDecember, after watching our segment on the Today Show, received FREE noodles after mentioning the code word, 'The Today Show,' at any of our 11 P'Nut locations across Sydney, Brisbane and the Sunshine Coast; just another way for us to give back to local communities and of course, our amazing customers.
From our P'Nut family to yours, we would like to wish you all a very Merry Christmas and Happy Holidays. We hope you enjoy spending time with your loved ones, and also get to spread some joy and cheer.