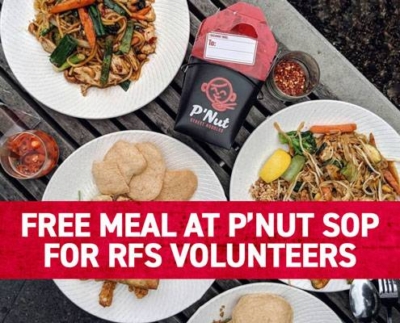 It's been a horror few months for Australia. Our country is burning and our neighbours are in need with the bushfire season devastating communities as early as August 2019 – since the end of winter!
Now it's the peak of summer and the area impacted is bigger than twice the size of Belgium and far exceeds the Amazon fires of 2019. Much of the devastation is happening right next door to our restaurants. Like the rest of the country and even the world, we're figuring out how we can help in any way.
One of our restaurants is located near the RFS headquarters in Sydney Olympic Park, so RFS volunteers are welcome to stop by the P'Nut Sydney Olympic Park restaurant for a complimentary meal. RFS volunteers can visit the Sydney Olympic Park restaurant in uniform or show volunteer ID and place an order to redeem the offer.
Thank you to our brave fighters and everyone joining in the fight to protect homes, neighbours, communities, animals and the environment during this time of crisis.  What a show of solidarity.
A reminder on how to donate:
TO NSW FIREFIGHTERS:
To donate directly to NSW Fire Fighters, visits the RFS donations page: https://www.rfs.nsw.gov.au/about-us/fundraising
TO QLD FIREFIGHTERS:
You can donate directly to the Rural Fire Brigades Association Queensland here: https://www.rfbaq.org/donate-to-rfbaq
TO WIRES & ANIMALS RECOVERY EFFORT:
You can donate to WIRES here to help rescue wildlife in NSW: https://www.wires.org.au/donate/emergency-fund
TO HELP THOSE AFFECTED:
You can donate to the Salvation Army disaster appeal by calling 13SALVOS (13 72 58) or online here: https://www.salvationarmy.org.au/donate/make-a-donation/donate-online/?appeal=disasterappeal
This will help the recovery effort as well as evacuation resources, food and accommodation for evacuees and frontline responders.
You can donate to the Australian Red Cross disaster appeal here: https://www.redcross.org.au/campaigns/disaster-relief-and-recovery-donate?utm_source=twitter&utm_medium=socialorganic&utm_campaign=201913_drr_disaster-relief-and-recovery_don_transient_bushfires_none
This will help provide resources at evacuation and recovery hubs, such as recovery programs for communities affected, training, equipment, logistics and coordination as well as preparation for communities in danger.
You can donate to Vinnies bushfire appeal here: https://donate.vinnies.org.au/appeals-nsw/vinnies-nsw-bushfire-appeal-nsw
This will help those affected rebuild their lives with food, clothing, furniture, other essentials, and funds to pay bills.