Our recipe for Thailand's national dish, the Pad Thai, takes over 2.5 hours to create and is a two-part process. First we make our Pad Thai sauce and then mix it with noodles, tofu, and choice of protein. Our version of this traditional dish perfectly balances sweet and sour with a hint of chilli.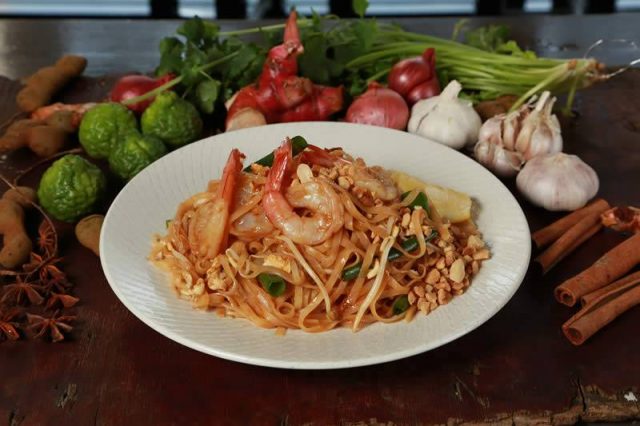 INGREDIENTS:
PAD THAI SAUCE
3-4 pcs of red shallots
5 cloves of garlic
1 block of palm sugar
1/2 cup of fish sauce
1 1/2 cup of tamarind (seedless and peeled)
1 tsp of crushed chilli powder
PAD THAI NOODLES
1/4 package of soaked rice stick noodles
1 tsp of dried shrimp
1 tbsp of roasted crushed peanuts
1/2 cup of bean sprouts
1/4 cup of green shallots
2 tbsp of canola oil
METHOD:
PAD THAI SAUCE:
1. Heat oil in a stainless steel pot and add minced shallots and garlic.
2. After 2-3 minutes or once they start to release their aroma, add all the other ingredients.
3. Mix at high heat to dissolve everything.
4. Now slow the flame and let is simmer for 1 1?2 hours.
5. Remove from flame and let it cool down.
PAD THAI NOODLES
6. Heat oil in the wok at medium heat.
7. Add egg and scramble for around 30 seconds. P'Nut Street Noodles always recommends using free-range egg.
8. Add meat or prawns with hard tofu and then cook for another 30 seconds to a minute over high heat.
9. Add rice stick noodles and soften with stock.
10.Add cooled down Pad Thai sauce and stir for aminute.
11. Add bean sprouts, shallots, peanuts and dried shrimp in the final 30 seconds.
12. Quickly toss for another 5 seconds and remove from the heat.
Normally, Thai's serve Pad Thai with garnish of bean sprouts for crunch, lime for sour, peanuts for nutty, sugar for sweet and chilli powder for spicy. As you can see we already added palm sugar and chilli powder in the sauce.