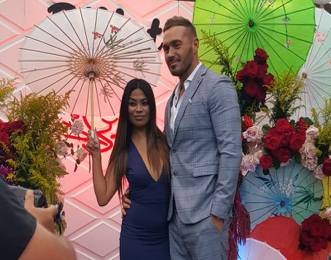 Quest for love can get complicated, that is why Love Island's hunk, Eden Dally, and Married At First Sight's Cyrell Paule seemed to have found one another, off screen, and in the midst of our new menu's launch party.
On Wednesday night 3rd of April, we celebrated the launch of our new menu at P'Nut at The Rocks.  The event was a star-studded affair with Matt Cooper, ex Dragon's player and NRL legend, Dean Wells, MAFS Season 2018, and Cassandra Thorburn, fresh off Dancing With The Stars, to name a few. The party also included many food bloggers and influencers from Sydney's social scene.
While our new menu was the star of the party, another was close to claiming the spotlight, the pairing of Eden and Cyrell. The two appeared at the party together, along with Eden's family. The pair made headlines after they were spotted together on a night out in Sydney, after Cyrell chose to leave Married At First Sight when her marriage with on screen hubby, Nic Jovanovic, could not be saved. They both chose to leave on amicable terms and have remained friends after the show.
While MAFS could not help Cyrell find love and Eden's relationship with Love Island's Erin Barnett also coming to an end late last year, these two reality stars may have their reality TV stint as the common basis of a newly formed relationship. At our launch party the two looked very happy and laughed the night away, with both trying out chef Nut's new menu, drinking bubbly, and dancing to DJ Beth Yen. Eden was set to strip down centre stage to raise money for our beloved charity, Hands Across Water, when he chose to strip to a seated Cyrell, for inspiration.
The striptease ended with Eden lifting Cyrell and the crowd going wild as Cyrell gushed like a school girl over a crush, or pehaps her 'king-ding-a-ling.' Eden's striptease earned him $600 bid from a lucky lady who will be heading to dinner with the hunk at one of our P'Nut restaurants across Sydney.
While Eden and Cyrell are still early days, they can perhaps ignite their romance further more at one of our restaurants over some noodles, to remind them of their night of fun night out that ended with a striptease!
While your night may not end in a striptease, you can certainly add some fun and spice by trying our new menu, which is launching across all our P'Nut restaurants this month! You will still find your old favourites such as the pad Thai, laksa, and the Penang satay, but you will also find a whole new variety of dishes and a brand new category, our P'Lite range, which is made up of dishes all under 400 calories and double the servings of vegetables!