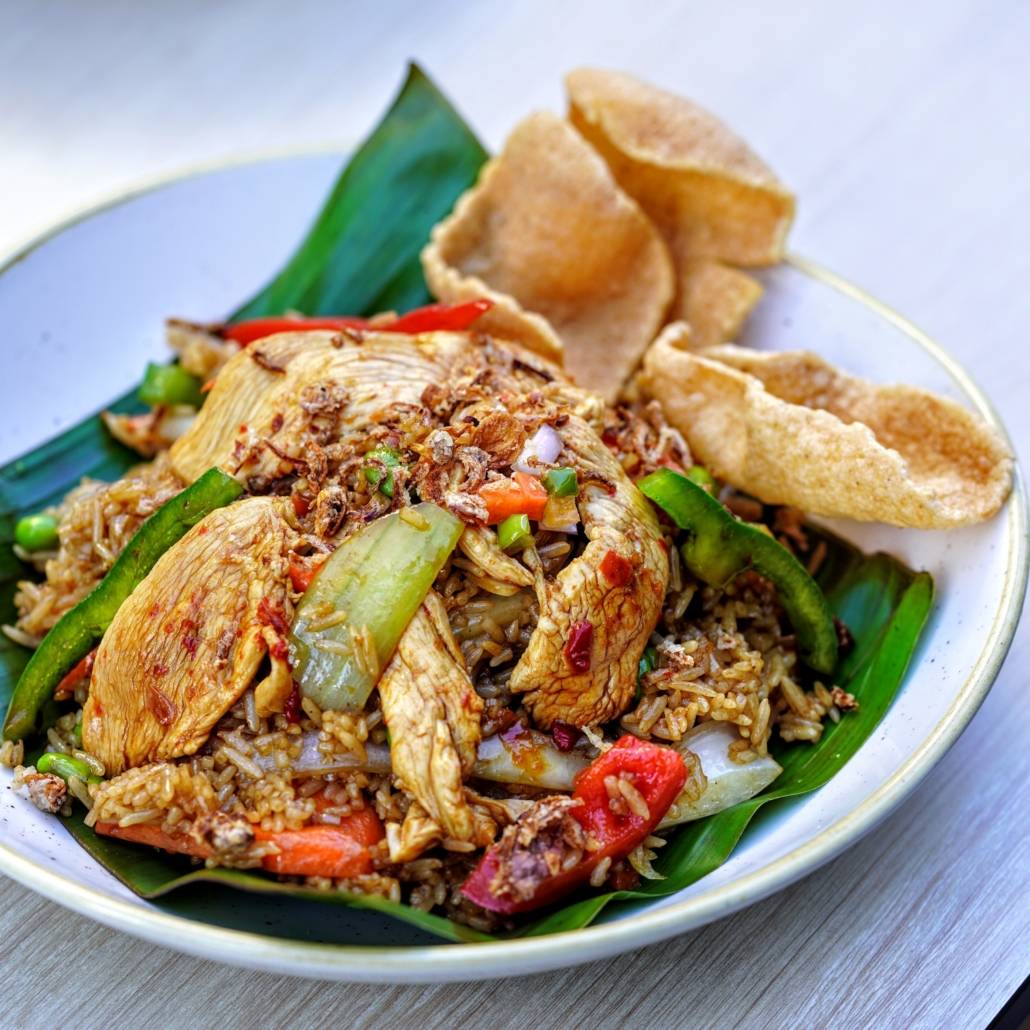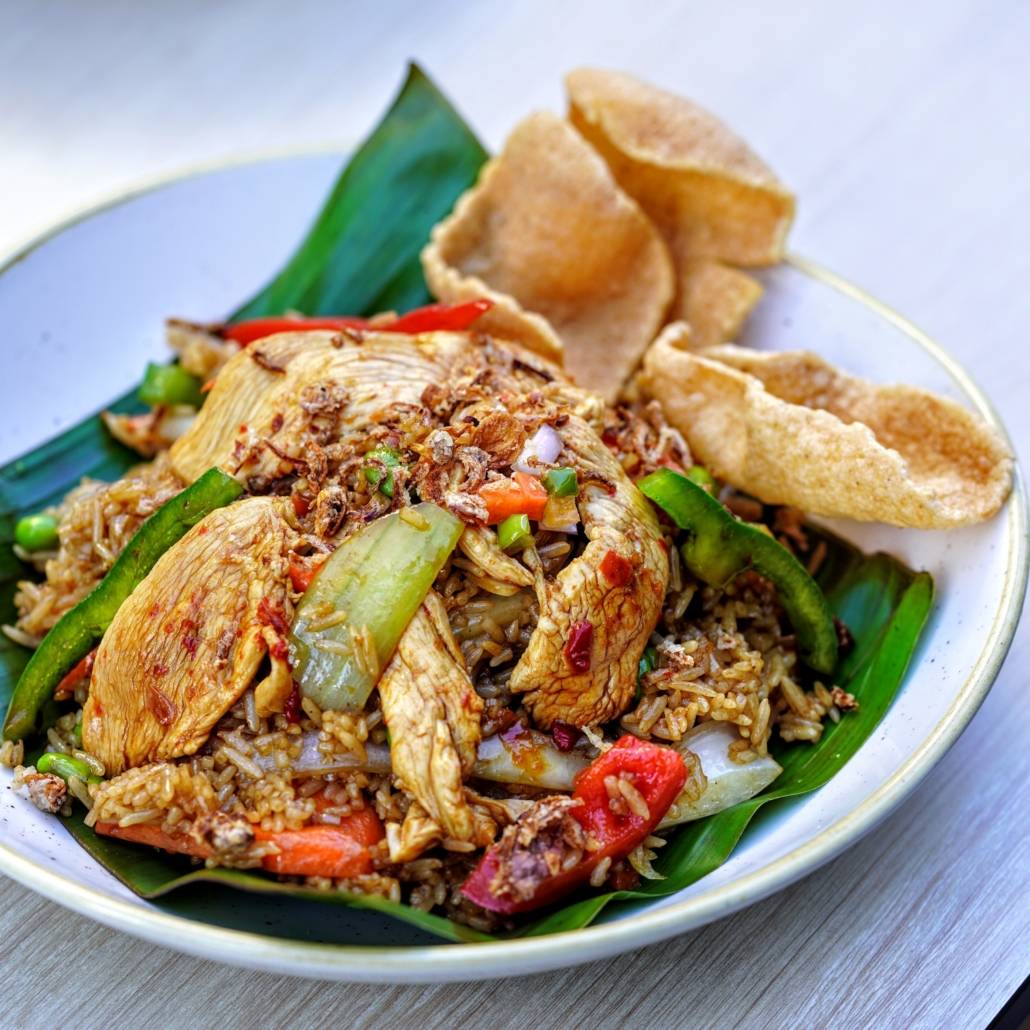 November is a very special month for us at P'Nut Street Noodles. Our CEO, Ankur Seghal and founding Chef P'Nut both have their birthdays in November and we opened up our very first P'Nut Street Noodles restaurant in November 2018.
Seeing as P'Nut Street Noodles is now one year old, we think it's a good opportunity to reflect on the past year's success and highlight some of the dishes we're so proud of.  One of the reasons that food from P'Nut Street Noodles tastes so good is that we use time honoured techniques, hand-made sauces from the best Thai herbs and ingredients, and recipes created by P'Nut's grandma. To commemorate this special occasion, we thought we'd share some of our delicious and authentic recipes with you!
Pad Thai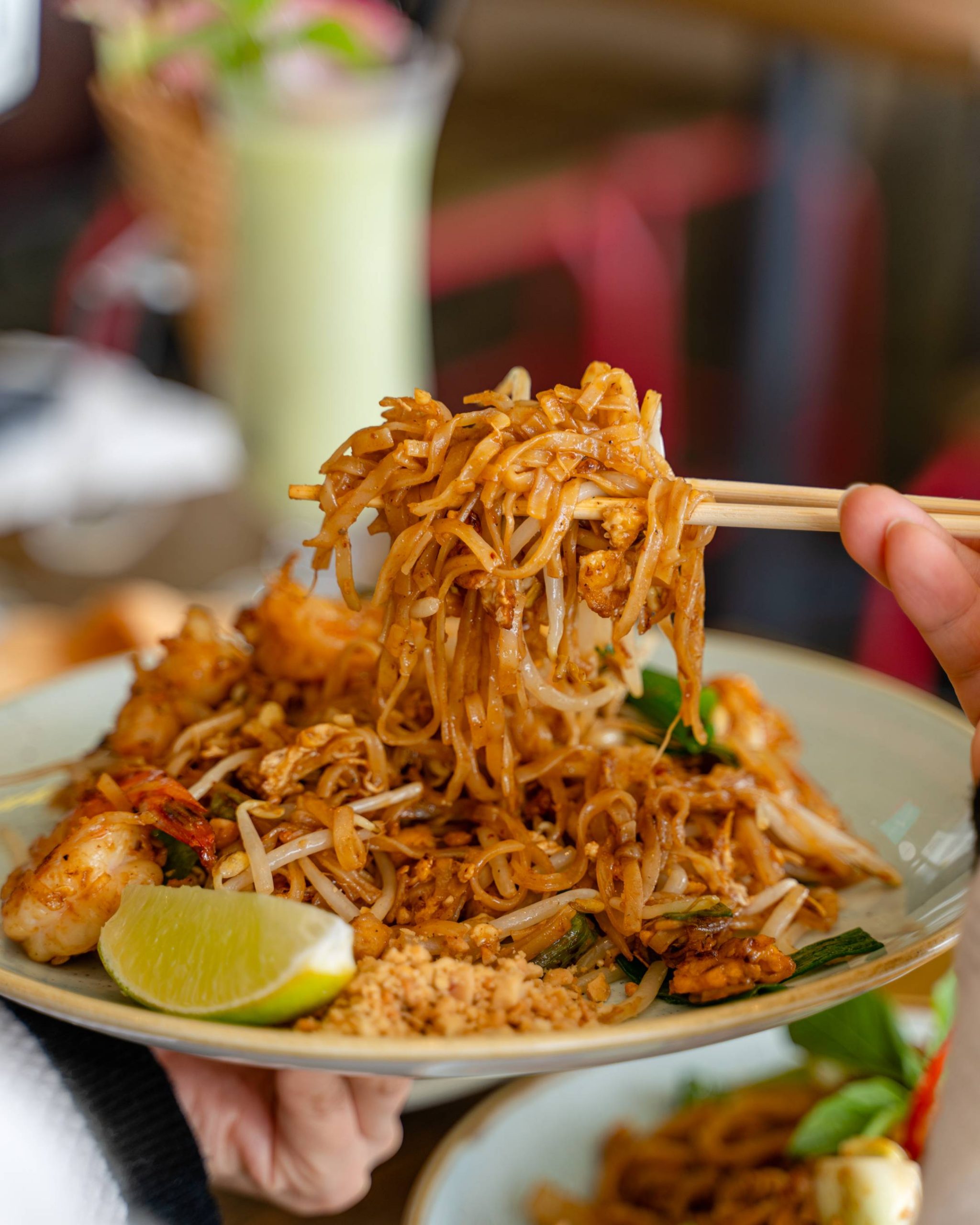 Our number one selling dish and Thailand's national dish, Pad Thai, takes over 2.5 hours to create and is a two-part process. First we make our fragrant Pad Thai sauce and let it simmer for over 2 hours to let the flavours build up.  Then we mix it with noodles, tofu, and choice of protein. Our version of this traditional dish perfectly balances sweet and sour with a hint of chilli.
PAD THAI RECIPE
INGREDIENTS
PAD THAI SAUCE
3-4 pcs of red shallots
5 cloves of garlic
1 block of palm sugar
1/2 cup of fish sauce
1 1/2 cup of tamarind (seedless and peeled)
1 tsp of crushed chilli powder
PAD THAI NOODLES
1/4 package of soaked rice stick noodles
1 tsp of dried shrimp
1 tbsp of roasted crushed peanuts
1/2 cup of bean sprouts
1/4 cup of green shallots
2 tbsp of canola oil
METHOD
PAD THAI SAUCE:
Heat oil in a stainless steel pot and add minced shallots and garlic.
After 2-3 minutes or once they start to release their aroma, add all the other ingredients.
Mix at high heat to dissolve everything.
Now slow the flame and let is simmer for 1 1/2 hours.
Remove from flame and let it cool down.
PAD THAI NOODLES
Heat oil in the wok at medium heat.
Add egg and scramble for around 30 seconds. P'Nut Street Noodles always recommends using free-range eggs. The chickens are treated well and the eggs taste better!
Add meat or prawns with hard tofu and then cook for another 30 seconds to a minute over high heat.
Add rice stick noodles and soften with stock.
Add cooled down Pad Thai sauce and stir for a minute.
Add bean sprouts, shallots, peanuts and dried shrimp in the final 30 seconds.
Quickly toss for another 5 seconds and remove from the heat.
Normally, Thai's serve Pad Thai with garnish of bean sprouts for crunch, lime for sour, peanuts for a nutty crunch, sugar for sweetness and chilli powder for spice. As you can see we already added palm sugar and chilli powder in the sauce.
PENANG SATAY
Penang Satay Noodles are our second best-selling dish. It features our rich, aromatic peanut sauce with coconut milk and curry paste, tossed with hokkien noodles, fresh veg and your choice of protein.
We pride ourselves on making sauces from scratch and serving up authentic Asian street food full of flavour with no added nasties. Now you can make our signature peanut sauce at home.
SATAY SAUCE RECIPE
INGREDIENTS
1/4 cup oil
2 cup dry roasted peanuts, unsalted
1 cup water
2 tablespoon brown sugar
1/2 teaspoon salt
1 tablespoon tamarind pulp, soaked in 1/4 cup water for 15 minutes, squeeze the tamarind pulp for juice and discard the pulp
1 cup coconut milk
METHOD
Crush the peanuts coarsely with mortar and pestle or mini food processor and set aside.
Chop the spice paste ingredients and blend until fine.
Heat oil and fry the spice paste until aromatic and spices have released colour.
Add the peanuts, tamarind juice and water.
Add brown sugar and coconut milk and stir thoroughly.
Simmer in low heat while continue stirring for about 3-5 minutes until the peanut sauce turns smooth.
SATAY STIR FRY RECIPE:
INGREDIENTS
500g chicken breast fillets cut into strips preferably free range or protein of choice
1 tbs oil
1 red capsicum small
1 cup broccoli
1/2 cup brown onion
P'Nut satay sauce
  RECIPE
Heat oil in wok at medium heat
Add choice of meat along with vegetables and cook for 3-5 minutes
Once the protein is cooked, add peanut sauce with some water or stock. Toss for another minute
Serve with Jasmine rice and sprinkle some crushed peanuts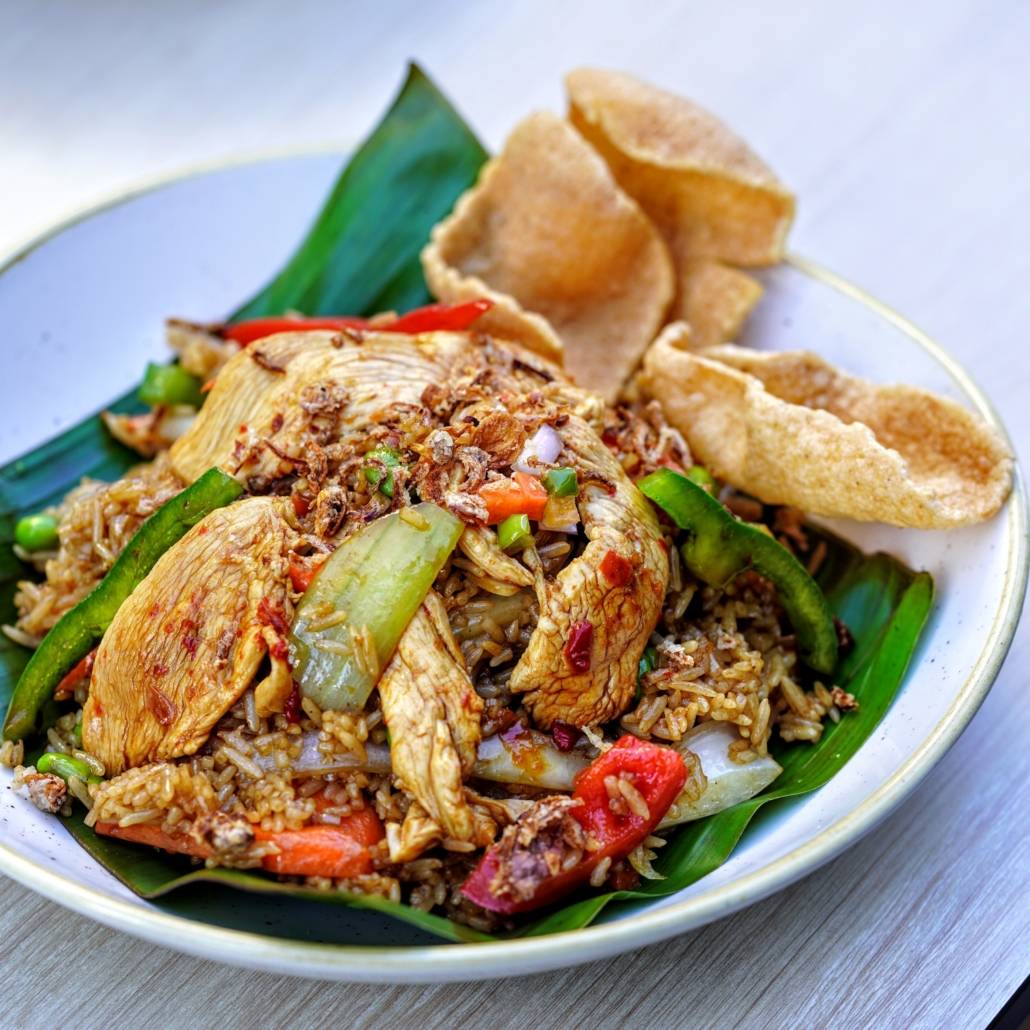 Nasi Goreng
nother one of our best-selling dishes is Nasi Goreng, which literally means 'fried rice' in Indonesian. It is a top contender as the national dish of Indonesia but this popular rice dish is also commonly found on the streets of Malaysia and Singapore. The Indonesian fried rice has a very different taste compared to its Chinese counterpart. This dish originated as a convenient way to preserve extra cooked rice. Frying rice with leftover meat became a favourite way to minimise food wastage, and by adding extra ingredients like shallots along with light and dark soy sauces gave birth to this Indonesian favourite. This dish is served at street stalls by hawkers on banana leaves and at Asian restaurants but is loved by all, especially our P'Nut guests!
If you have ever been to Bali on a holiday, you may have been served this dish for breakfast, starting your day on a very delicious note. It gets its heat from the chili sambal which adds a depth of flavour to the rice.
NASI GORENG RECIPE:
Nasi Goreng is a two-part process. First we need to make our sambal sauce and then mix it with rice, meat or prawns and stir fry in the wok. A good sambal sauce is very fragrant, spicy and salty – just like the one found at P'Nut Street Noodles eleven restaurants in Sydney, Brisbane and the Sunshine Coast.
INGREDIENTS
SAMBAL PASTE
3 garlic cloves
3 small red chilli or Bird's eye chilli (fresh)
15 long red chilli (dried)
1 shallot
1/2 cup oil
1 tablespoon shrimp paste or belacan
1/2 cup water
2 tsp anchovies (fried)
1 tsp salt
NASI GORENG
1 free range egg
Kecap Manis (sweet soy sauce)
Oyster Sauce
1 tsp Sugar
2 cups Cooked (preferably day old) rice
1 Green capsicum
1 Carrot
Spring Onion
Sambal is a spicy sauce or paste made of chilli, commonly used as a condiment in Southeast Asia and India. The name is a generic term used for a spicy condiment. At P'Nut, Chef Nut learnt the recipe from his friend's grandma and uses anchovies for crunch and authenticity.
METHOD
Blend garlic, fresh/dried chillies and half of the anchovies.
Heat up a wok or pan on low heat and "toast" the shrimp paste until aromatic. The texture of the shrimp paste would turn dry and powdery after toasting.
Transfer out and add to the chilies with garlic and start pounding with the pestle until fine. Alternately use a food processor.
Sauté the remaining anchovies until crispy over medium heat. This is important for aromatics.
Add the blended ingredients and stir-fry until it changes to a darker shade of red.
Add sliced shallots and water. Stir well.
Continue cooking for about 4 minutes. Turn off the gas and add the fried anchovies. This will give it special crunch as per grandma. Add salt to taste and your sambal is ready.
You can keep sambal in the refrigerator in an airtight container for a couple of days, or freeze in the freezer for up to 6 months.
NASI GORENG RECIPE
Heat oil in wok at medium heat.
Add egg and scramble for around 30 seconds.
Add sambal chilli paste.
Add choice of meat along with cooked jasmine or brown rice and cook for 1-2 minutes. For Nasi Goreng, best to use yesterday's rice to give it some dry texture.
Add kecap manis with oyster sauce, sugar and vegetables. Toss for another minute.
Serve with fried onion and cool cucumbers.
MEE GORENG
Whether you spell it mi goreng, mie goreng, or mee goreng, it all translates to 'fried noodles,' and is generally a spicy dish. Believed to be introduced to Indonesia by Chinese immigrants, it is thought to have been derived from chow mein. The dish commonly uses yellow egg noodles and a variety of meats – typically what is on hand or left over for most home cooks. It gets its spice from the chilli sambal, and is slightly sweetened by the sweet and sticky kecap manis (sweet soy sauce).
To make our sambal paste, Chef Nut picks the best Asian ingredients and mixes them by hand with a mortar and pestle.
Chef Nut starts by adding garlic, shallots, and chillies to a hot oiled wok to release the aromatic flavours of each. After shallow frying, he then adds shrimp paste, sometimes referred to as stinky belacan due to its rather pungent aroma. Once all the ingredients are nicely browned, the mixture is transferred to a mortar in which they are ground and pounded to a fairly smooth consistency. Once this is achieved, the paste is transferred back to the wok to further intensify the flavour and aroma of the paste. After a few seconds, crushed anchovies and some sugar are added to balance the flavours. After a few more seconds in the hot wok, the sambal is ready.
You can add any vegetables you like to your version of Mee Goreng and Nasi Goreng as the sambal is the true flavour base for the dish.
Now you have it! Some secrets to a few P'Nut's favourite dishes. As you can see, we serve up the best flavours of Southeast Asia. No need to travel to Asia for these delicious dishes, you can just pop into any of our 11 Southeast Asian/ Thai restaurants near you! We invite you to pop by to celebrate our birthday soon.