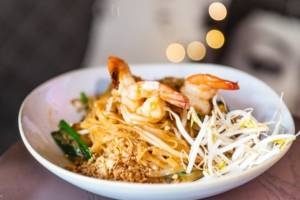 Not only is Thailand the land of smiles, but it is also the land of many flavours. Comprised of influences from the surrounding countries, the best Thai dishes try to balance four main flavours of sweet, salty, sour and spice. Thailand's food culture differs by regions as different countries influenced each parts of Thailand.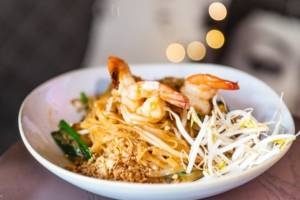 For instance, central Thailand uses a lot of coconut milk in their cooking due the Myanmar influence on the old kingdoms of Thailand, while Southern Thailand has a lot of Cantonese influences, and Bangkok metropolitan area can see Portuguese influences, giving Thai cuisine a very wide range of flavours.
In general, rice is the main carb component in Thai food but with the end of WWII causing a rice shortage, the use of noodles in Thai cooking became more popular, bringing in a new array of Thai dishes. The 'best Thai dish' differs per person and preferred taste, but regardless of their pick, each Thai dish brings complexity of flavours and ingredients.  There are many ingredients that are unequivocally Thai, such as kaffir lime, galangal, and lemongrass to name a few and each adds rich aromatic flavour to the dish.
In 2017, CNN Travel held an online poll to find the 'World's 50 Best Dishes,' with 35,000 people surveyed, Thailand had more dishes on the list than any other country. Tom yum goon was ranked the highest in 4th position; Pad Thai (Thai style fried noodles) came in 5th, Som tam 6th, Massaman curry 10th, Green curry 19th, Thai fried rice 24th and mu nam tok 36th. While the tom yum soup outranked the pad Thai in the online poll, the Pad Thai is the most popular not only worldwide but is Thailand's national dish, and our pick of the best Thai food.
A good Pad Thai brings together main four flavours of Thai food, but a great Pad Thai perfectly balances it so no one flavour dominates the other. A traditional Pad Thai is made from dried rice noodles, eggs and tofu and uses prawns as the protein, served with a wedge of lime, crushed peanuts, chilli flakes, fish sauce and bean sprouts on the side. Pad Thai is most commonly served as street food in Thailand.
Foodies are always in search of the best and most traditional Pad Thai, and in Bangkok, Thipsamai Pad Thai is the place to be. With a line around the corner and the stall still having an hour before opening, the spot is known to serve up the dish through a family recipe being passed down through the generations. To get the most authentic Pad Thai requires a plane ticket to Thailand, a foodie can't hop onto a plane each time the Pad Thai craving hits, so one has to find the most authentic recipe on this side of the ocean.
P'Nut's recipe for Thailand's national dish takes a nod from Thipsamai by using fish sauce, palm sugar and fresh tamarind sauce slow cooked for over 2.5 hours to create real Thai flavours. What is more we also have put some of the traditional accompaniments into the sauce such as fish sauce and chilli flakes. Don't worry, we still let you have the fun with lime and ground peanuts. No wonder our Pad Thai has been repeatedly voted as Best Thai in Sydney and Best Pad Thai in Brisbane. Moreover, it is Gluten Free – the rice noodles that we use come from the Chanthaburi province and may have traces of tapioca, but do not have gluten. Customers and bloggers continuously praise the balance of flavours in our Pad Thai as opposed to other restaurants. This balance comes from P'Nut using the perfect mix of palm sugar for sweetness, tamarind for sourness, fish sauce for saltiness and a hint of chilli for spiciness. As P'Nut repeatedly says, "My grandmother always said, "The essence of Thai food is all about balance – achieving the perfect harmony between sweet, sour, spicy and salty."
To cook your very own Pad Thai at home, check out our Pad Thai recipe, to get inspired by the flavours of Thailand, check out our video here or come by any of our 11 restaurants across Sydney, Brisbane and the Sunshine Coast to get yourself some authentic Pad Thai, like you would find across the ocean.