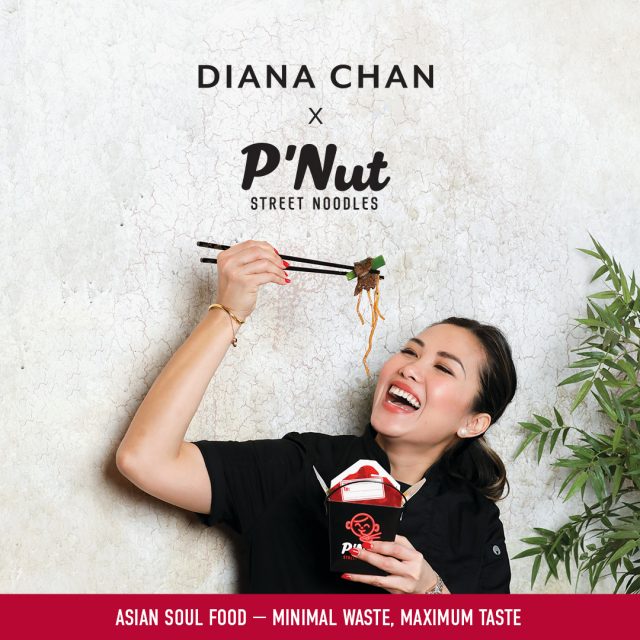 In a world where we all need to play our part to live a more sustainable lifestyle, we've partnered with former Masterchef Australia winner, Diana Chan to bring exciting new asian soul food dishes to P'Nut Street Noodles this winter with minimal waste and maximum taste. Inspired by flavours of her Malaysian heritage, Diana has created 4 delicious street dishes that are as good for you as they are for the environment.
Growing up in Malaysia and falling in love with cooking at a very young age, Diana's passion for food drove her to leave her highly successful accounting job to compete in MasterChef Australia's 9th season, where she was crowned the season's winner. Despite her undoubted talent in the kitchen, it's her love of fresh and local produce, her authentic, fresh approach to food and her passion for food sustainability that made hearts around Australia (us included) fall in love with her.
Did you know that in Australia, 20% of the food we consume ends up in landfill annually? This equates to around 7.3m tonnes of food waste every year! (Crazy isn't it?). One of the top 5 ingredients that go to waste are vegetables, and this winter we've created 4 new dishes that incorporates all of the parts of the vegetables that would otherwise go to waste – how good is that!
So what are these exciting new dishes you ask? A combination of Asian & Malaysian food, let us break it down for you…
Packed with chilli, tamarind and lemongrass served with a side of sambal and a squeeze of lemon! Diana's tip: best served with prawns!
Hokkien noodles tossed with beef in our house made pepper, curry leaves and dried chilli sauce – this one packs a punch!
A heart-warming soup with flavours from Diana's childhood. Vermicelli noodles and in a delicious broth with coriander, ginger, garlic and turmeric.
Wontons filled with luxurious spiced pork belly, served with a chilli, soy and ginger dressing and fresh coriander.
And because we love giving you a great deal, try them all with our $20 Diana Chan Combo: with your choice of any of Diana's dishes + Pork Belly Wontons + Water.
Try Diana's dishes this winter, available across all our restaurant locations for a limited time only. You can also order online (takeaway or home delivery) and have a hot Asian meal delivered to you. Remember, it's all for a good cause!