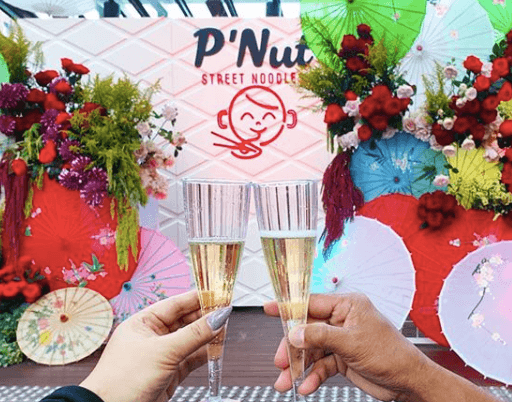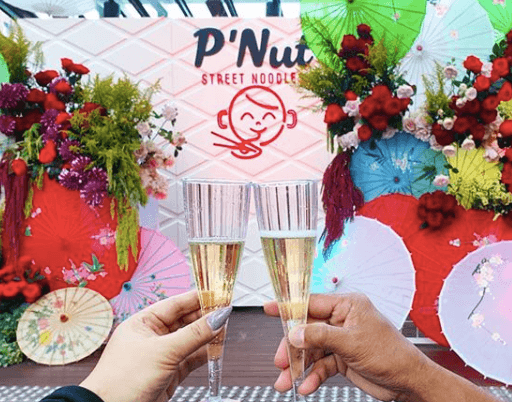 At P'Nut we get excited about a lot of things, including holidays, traditional celebrations, family, etc. but most of all, we get excited about food, like really excited. We live, breathe and dream about food, that is why when we decided to launch our new menu, we knew we needed to celebrate in the true P'Nut way, by having a BIG party! Teaming up with a PR company, TFSN, our P'Nut at The Rocks turned into a night noodle market on Wednesday night 3rd of April, as we celebrated the launch of our new menu.
The event was a star-studded affair with guests such as Matt Cooper, ex Dragon's player and NRL legend, Dean Wells, MAFS season 2018, Cassandra Thorburn, fresh off her appearance on Dancing With The Stars 2019, and Cyrell Paule, MAFS season 2019 coming hand in hand with Eden Dally, Love Island season 2018, to name a few attendees.
The party also included many food bloggers and influencers from Sydney's social scene along with some lucky P'Nut fans who won our contest and got onto the Very Important P'Nut list. One of these lucky winners was Pamela Greentree who is a top fan of P'Nut and came to the event with her partner and two other guests, and were eager to try the new menu.
DJ Beth Yen took on the turntables and got the event started as guests filled into the The Rocks Square. Excitement was buzzing throughout on being able to try Chef P'Nut's new menu before anyone else. As the drinks started to flow, so made the rounds of snacks off our Snacks menu. Boats of our chilli squid w/ Sriracha mayonnaise, vegetable spring rolls with sweet plum, spicy chicken dumplings, spicy prawn dumplings, mini Chick'N in a cone, and Buddha's steamed vegetables made their way from our kitchen and into the crowd. With hungry hands snatching up each entrée boat, our servers were busy trying to get our excited guests fed.
As the party got properly underway and snacks making the rounds, the entertainment portion began. Traditional Thai dancers in their beautiful outfits took centre floor and captured the attention of our guests, transporting them back to Thailand. After an outfit change and their beautiful dance concluding, a fierier act stole the show next. Chef P'Nut getting behind the wok and showing off his skills and showcasing how we get those smoky flavours into our noodles, because after all, this night was about celebrating P'Nut and his food.
After Chef P'Nut wok'ked up delicious noodles for the guests, the night heated up even more, as Eden, the Love Island hunk took centre stage for his striptease. Picking Cyrell Paule as his muse and shedding his clothes one piece at a time for a great cause, the hunk helped raise money for our beloved charity, Hands Across Water, a Thai charity helping disadvantaged children. Eden's striptease earned him a $600 bid from a lucky lady who will be heading to dinner with the stud at one of our P'Nut restaurants across Sydney. There was also an auction portion that raised a further $500, raising $1,100 in total for Hands Across Water.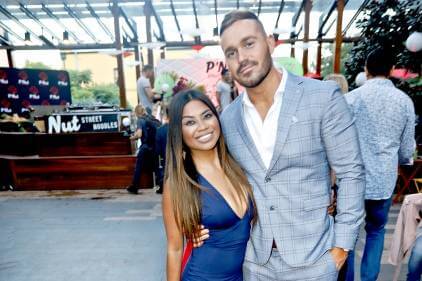 With the fundraising portion done, our guests continued to enjoy the food, the music and the vibes of our noodle market. With guests crowding the dance floor, and with each song's passing, the night was winding down. With the night coming an end, we sent our guests on their way with P'Nut goodie bags. Stuffed with a P'Nut Sriracha Tee, mini bottle of P'Nut Sriracha sauce, $25 P'Nut voucher, and a Dogue voucher for 15% off, our bags were a sweet memento of a great night and a great celebration.
Chef P'Nut's goal when dreaming up his new menu was to make you feel at home by keeping some of our classic dishes and putting his little twists on them, but it was also to get you excited again about Southeast Asian flavours by bringing about new dishes. Dishes that have taken him a year to finalise, dishes that were dreamt up during his travels, dishes that were inspired by his journey from Southeast Asia to Australia.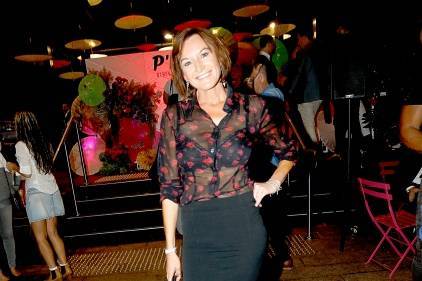 After completing the new menu, P'Nut was excited to share it with the world, and our launch party was the perfect way to share his new dream. If you were lucky enough to be at our launch party, we sincerely hoped you enjoyed the your night of good drinks, good company, good entertainment and great food.
If you were not at the party, we hope you have gotten the chance to head into your local P'Nut to try the new menu. As always, we love hearing from our customers and would love to have your feedback on the new menu. Please let us know through our Facebook Page, leave us a Google review or simply tell our staff.
To check out more photos from the party please click here. 
P'Nut's Party In The Press:
Our party created a buzz all around, including in the press!
To read up on Daily Mail UK's version of our party, click here or you can read their thoughts on Cassandra's outfit click here, or New Idea's thoughts about Cassandra's outfit click here.
Daily Mail also covered a story on Deal Wells' attendance to our party, which you can read about here.
Besides our new menu, another noteworthy part of our party was Eden's striptease, which he chose Cyrell for and you can read about it from Yahoo! Lifestyle here or perhaps you would like to watch it? If so, click here.
Perhaps this was the event that lead to love? You can read about Eden and Cyrell's relationship click here and click here which looks like it all began at our party!
P'Nut brings together food lovers and reality stars!