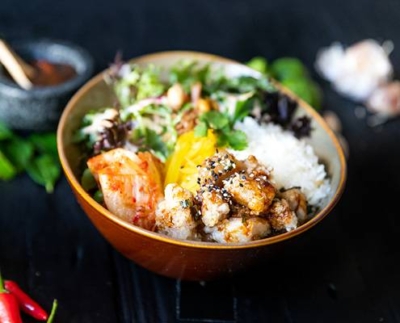 P'Nut has been very busy this past year; our whole noodle family has been at work trying to make delicious things happen! Not only did we open two new restaurants, rebranded ourselves from Wok on Inn to P'Nut Street Noodles, but now we have dropped a new menu that has us so excited!
Our founding chef, Nut, or P'Nut, as you all know him, has been hard at work putting together a menu that still makes you feel at home by keeping your favourite classics such as the Pad Thai, Laksa Soup, or Penang Satay Noodles, but he also wants to bring about new dishes that still get you excited about the flavours of Southeast Asia. He even added a whole new category to the P'Nut menu that is on trend while keeping the nutritious wants of our customers in mind.
If you have frequented any P'Nut restaurant in the past few weeks, you may have already taste tested samples of our new menu, but if you have visited any P'Nut after the new menu was rolled out, you have been lucky enough to have already tried some of our newest items!
We get excited about a lot of things at P'Nut, including holidays, traditional celebrations, family, etc. but most of all, we get excited about food!  We got so excited about our new menu that we even had a big party to celebrate it! We invited food bloggers, Sydney socialites, some reality stars and things got interesting, but most importantly, we invited some of lucky P'Nut fans who got to try the new menu before the general public!
To see what the excitement was all about, continue reading below or better yet, stop by your local P'Nut to give these delicious dishes a try for yourself!
Some of our newest and most exciting dishes include:  
Chick'N in a Cone: You may have already seen the pictures of our customers biting into this crunchy deliciousness, Australia's first, this instragammable dish is winning taste buds one bite at a time! With a crispy waffle stuffed with cage free popcorn chicken pieces, battered and fried, and then drenched in sweet plum. The final touch is the drizzling of our favourite Sriracha mayonnaise; which is sure to become one of your favourites from the first try! Part of our Snacks menu, it has a spice rating of 1 chilli and contains egg products (E).
Poke Poke Salad: P'Nut's take on the Poke! Our version of this famous salad is made of cage-free bite-sized popcorn chicken on a bed of greens, topped with our famous Sriracha Mayonnaise, served with rice. This salad has a spice rating of 1 chilli and contains eggs and fish products (E, F).
P'Lite Range: The new kid on the playground, our P'Lite range brings you four mouth-watering dishes at a fraction of the calories! Chef P'Nut worked with a nutritionist to bring the P'Lite range to life and it comprises of Mongolian Stir-fry, Chilli Jam Stir-fry, Buddha's Vegetable and Tofu Stir-fry and Chilli Jam Salad.
Each dish is less than 400 calories; that is correct, you read that right, each dish in the P'Lite category is less than 400 cals! While the calories are on the slimmer side, the taste and ingredients are packed to the max. Each P'Lite dish has double the servings of vegetables, which means you get more of the good stuff. There is also 20g or more of protein and 4g or more of fibre in each. You can feel good about knowing you get the full flavours and a fraction of the calories!
Mongolian Stir-fry: Traditionally made from hoisin sauce and rich soy sauce for a healthy fusion of savoury and sweet, our Mongolian sauce is wok tossed with grass-fed lean beef along with fresh veggies to complete this stir-fry. This dish has the option to be made vegan if you switch out the protein and is dairy and nut free. (VG+, NF, DF).
Chilli Jam Stir-fry: P'Nut's taste sensation is created with tender chicken breast, wok tossed with our secret chilli jam sauce and fresh vegetables for this light stir-fry. This stir-fry is nut-free and dairy-free but contains fish products. (F, DF, NF)
Buddha's Vegetable and Tofu Stir-Fry:A classic combination of oyster and mushroom infused soy sauce with a hint of five spice tossed with vegetables and tofu. This dish is dairy-free and nut-free but contains fish products. (F, DF, NF)
Chilli Jam Salad: Tender chicken breast on a bed of mixed greens, topped with crunchy cashew nuts and our secret chilli jam dressing to pack the flavours but not the calories! This salad is dairy-free but contains fish products. (F, DF)
Street Food:
The loyal fans of P'Nut know that we are known for our street food, we are known to bring you the street vibes and flavours of Thailand, Malaysia and Singapore to your plates here in Australia. Our new menu still connects us to the noodle markets across the oceans while putting new twists on the classes!
Noodle Soups:
Noodle soups that warm the soul, we have kept your favourites and while they are very different flavour profiles, they are still hearty and whole in a bowl!
Laksa Soup: Malaysian soul food – made from scratch laksa paste with red shallots, garlic, chillies, lemongrass, shrimp paste and mix them up with curry powder, turmericto complete this coconut curry based soup, served with vermicelli noodles and boiled egg. This soup is gluten free, nut free and contains egg and fish products. (GF, NF, E, F)
Wonton Soup: Hand-made chicken dumplings in our rich broth finished off with cooking wine and shitake mushrooms and served with curly egg noodles. This soup is dairy and nut free. (DF, NF)
Snacks:
When you are in the mood for something small and tasty or something that is just a tease to the main, our snacks offer a variety while keeping the same delicious P'Nut flavours!
Chilli Squid: Fresh squid seasoned with Japanese 7 spice and served with our famous Sriracha mayonnaise. This snack contains fish and eggs and has a spice rating of 1 chilli. (F, E)
Tofu Puffs: Our tofu puffs topped with peanut satay sauce and crunchy fried shallots. A must for those who love something nutty, and it is gluten and dairy free and vegan! (VG, DF, GF)
Buddha's Harvest Vegetables: Steamed veggies & tofu puffs topped with our peanut satay sauce. This snack is gluten and dairy free while also being vegan. (VG, DF, GF)
Spicy Chicken Dumplings: Homemade chicken dumplings served in our addictive spicy soy sauce, infused with Sichuan peppercorn. These dumplings have a spice rating of 1 chilli and are nut-free but contain eggs. (E, NF)
Prawn Dumplings: Traditional Cantonese style steamed prawn dumplings served in our delicious spicy soy sauce, these dumplings also have a spice rating of 1 chilli and is nut-free but contains egg and fish products. (E, F, NF)
Vegetables Spring Rolls: Fresh vegetables, ginger and garlic rolled in golden pastry, served with our delicious sweet plum sauce. This tasty fried favourite is vegan, and dairy and nut free. (VG, DF, NF)
Mixed platter: A sampling platter of all the goodies: Chilli Squid (2), Popcorn Chicken, Vegetable Spring Roll (1), Tofu Puffs, Dumplings and Prawn Crackers this platter contains egg and fish products. (E, F)
Little Dumplings (Kids menu)
P'Nut has something even for the tiny tastebuds because even tiny tots are foodies and it's never too early to start working on those chopstick skills!
Curly Wurly Noodles: For kids that love a bite on the sweeter side, our curly egg noodles tossed with teriyaki sauce & fresh veggies. These noodles have the option to be vegan depending on the choice of protein and noodles and are nut-free. (VG+, NF)
Lucky Fried Rice: A Little Dumplings favourite, our version of fried rice comes with Chinese oyster sauce & fresh greens and while being nut-free, but contains eggs. (E, NF)
Popcorn Chicken with Jasmine Rice: Cage-Free chicken bites battered to crispy golden perfection, served with Jasmine Rice. Soon to become your kid's favourite! This dish is nut-free. (NF)
Lunch Specials:
To spice up your lunch options, we are now offering you the choice of having your lunch in our regular sizes or in a mini wok, while still providing you full flavour!
Singapore Street Noodles (Regular and Mini Wok):Fresh ginger, curry powder and turmeric with hints of chilli pack a punch in this vermicelli noodles dish, giving it a spice rating of 2 chillies. This dish also has the option to be vegan depending on the protein of choice, and it nut-free, dairy free but contains egg products. (DF, NF, E, VG+)
Satay Vermicelli Noodles (Regular and Mini Wok):Our rich, aromatic peanut sauce with coconut milk and curry paste, tossed with vermicelli noodles. This lunch special is gluten and dairy free but contains eggs. (DF, GF, E)
Cashew Nut with Jasmine Rice (Regular and Mini Wok):An explosion of crunchy cashew nuts and fresh vegetables wok tossed in our chilli jam sauce served with Jasmine rice, this dish is dairy free and contains fish products. (DF, F)
Teriyaki Egg Noodles (Regular and Mini Wok):Slow cooked Japanese kombu, fresh ginger and Mirin wine tossed with thin egg noodles. This dish gives you ability to make it vegan depending on the protein and noodle option you pick and is also nut-free but contains egg products. (VG+, E, NF)
(very) Nasi Goreng (Regular and Mini Wok):Indonesia's former President Bambang's favourite! Fried rice flavoured with naughty chilli sambal, this is a 2 chillies rated dish is nut and dairy free, while containing egg and fish products. (E, F, NF, DF)
Chef P'Nut has been very excited to share his new menu with you so we hope you enjoy it when you try it, and as always, we love hearing from our customers and would love to hear your thoughts on our the new menu. Please let us know through our Facebook Page, leave us a Google review or simply tell our staff.