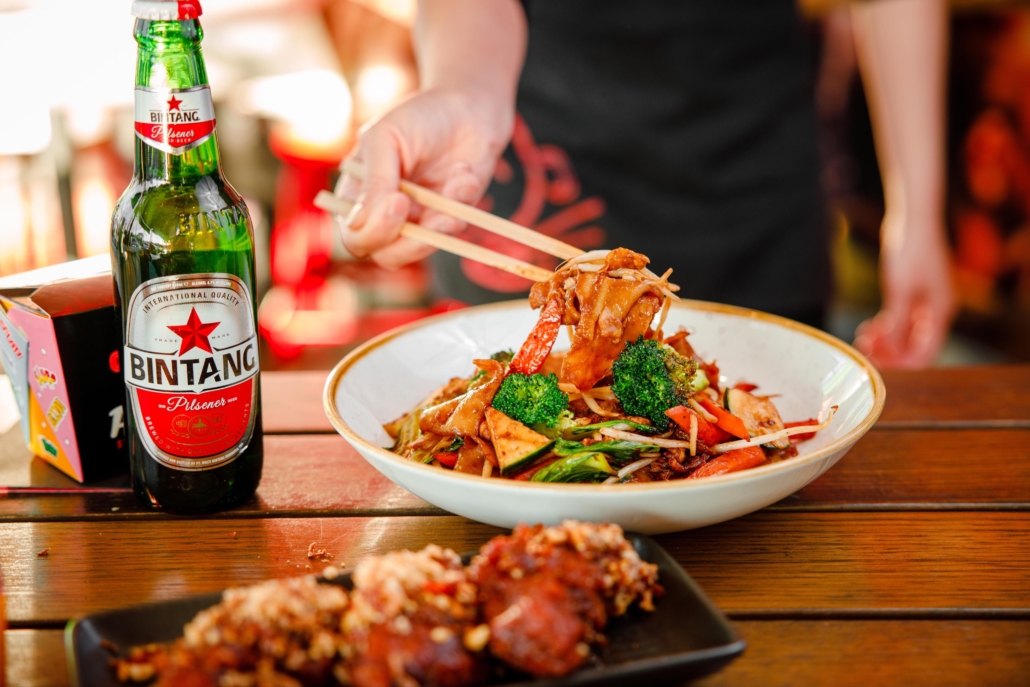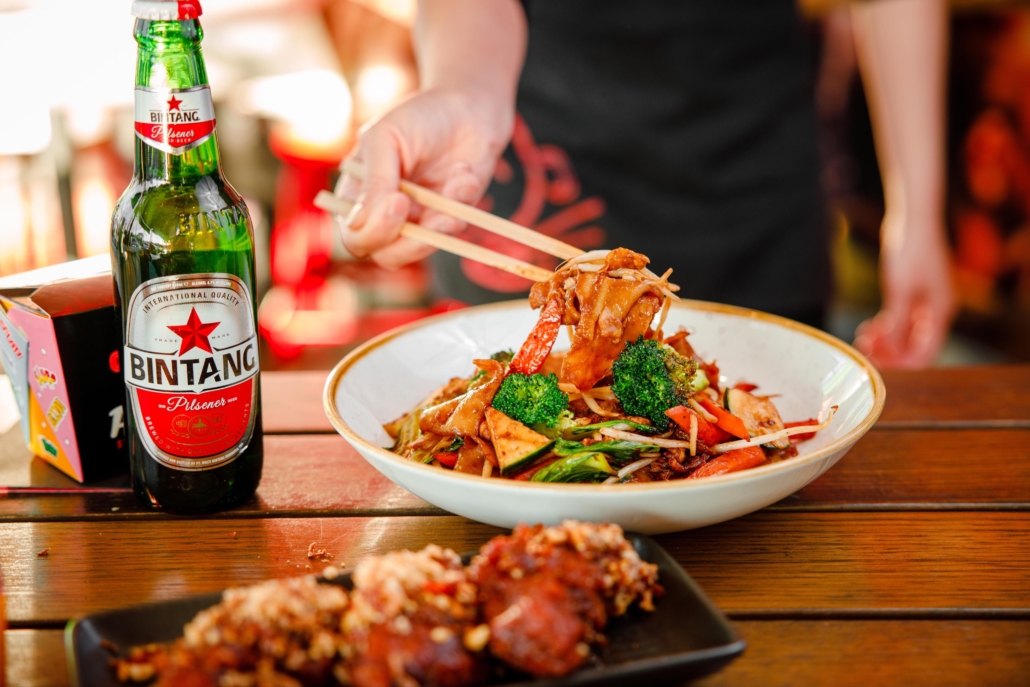 Being a short plane ride away, Bali has fast become a favourite holiday destination for Aussies, earning a special place in our hearts (and stomachs)!
With a global pandemic engulfing the world, our much anticipated holidays have been put on hold, and we're finding ourselves stuck at home. For many, the long-awaited trip to Bali to soak up the relaxed beachside culture now seems out of reach.
Don't fret, here at P'Nut Street Noodles we love celebrating Southeast Asian culture, so we're bringing Indonesia to our restaurants in Sydney, Brisbane and The Sunshine Coast this August! This will allow our guests to taste the flavours of Indonesia without venturing far from home. We've also brainstormed some nifty ways you can recreate the Bali experience at home – a fun activity for the whole family:
Pick up an Indonesian feast from P'Nut Street Noodles, to enjoy at home.
Our Indonesian celebration coincides with Indonesian Independence Day falling on August 17th. We'll be offering two special Indonesian dishes that were a huge hit last year – Char Kway Teow and Indonesian Fried Chicken (IFC):
Indonesian Specials At P'Nut – Limited Time Only!
Char Kway Teow
Flat rice sheet noodles tossed with garlic-infused kecap manis, free range egg and fresh vegetables for a mix of sweet and savoury. Available with chicken or vegetables – $13.95
Indonesian Fried chicken (IFC)- BACK BY POPULAR DEMAND
Cage free chicken seasoned with a blend of spices and coated with home-made satay and sambal sauce – $7.95
Add Bintang Beer to any main dish – $5
Indonesian Feast
Char Kway Teow + Indonesian Fried Chicken (IFC) + Bintang or Drink Of Choice – $25
Indonesian Dishes At P'Nut
We feature authentic Indonesian dishes as permanent fixtures on the menu as well, you must try our Mee Goreng and Nasi Goreng:
Whether you spell it mi goreng, mie goreng, or mee goreng, it literally translates to 'fried noodles,' and it's a popular Indonesian noodle dish that is often spicy. At P'Nut Street Noodles the real hit of flavour in this dish comes from the sambal sauce, made by cooking garlic, shallots, chillies and shrimp paste and grinding the ingredients in a mortar and pestle to create a fragrant paste.  Crushed anchovies and sugar are also added for extra flavour.
Hokkien noodles are tossed in a hot wok with sweet kecap manis, free range egg, fresh vegetables, the spicy sambal paste, and your choice of protein to create a delicious balance of spicy, salty and sweet.
Indonesia's former President Bambang's favourite! Fried rice flavoured with naughty chilli sambal.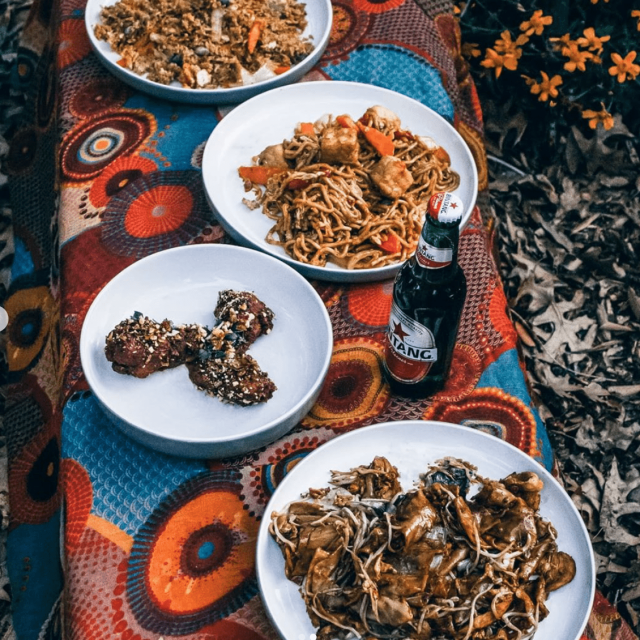 Set up an Indonesian-style Warung in your own home.
While P'Nut can provide the authentic Indonesian food, you can have some fun adorning your living room and dining room with typical Indonesian and Balinese decorations!
Pick some incense to achieve the aromatic Balinese ambience in your home – combined with the fragrant spices in your P'Nut dishes, you'll be transported on holiday by your senses.
Source some banana leaves to serve your tasty P'Nut dishes, for the full Indonesian experience.
There's no better excuse to whip up some delicious cocktails to serve before your meal, and follow them up with a chilled Bintang. Cheers!
Dress up!

 
Whether you're keen to pull out your old Bintang singlet that holds many memories, or dust of the Batik, complete the experience by dressing in clothing that reminds you of Indonesia. Even if you've not been to Bali before, you can pick up Batik-style fabric or tie dye fabric and create your own sarongs!
Cook some Indonesian dishes
If you'd like to continue your Indonesian experience, we have some delicious, authentic Indonesian recipes you can try at home.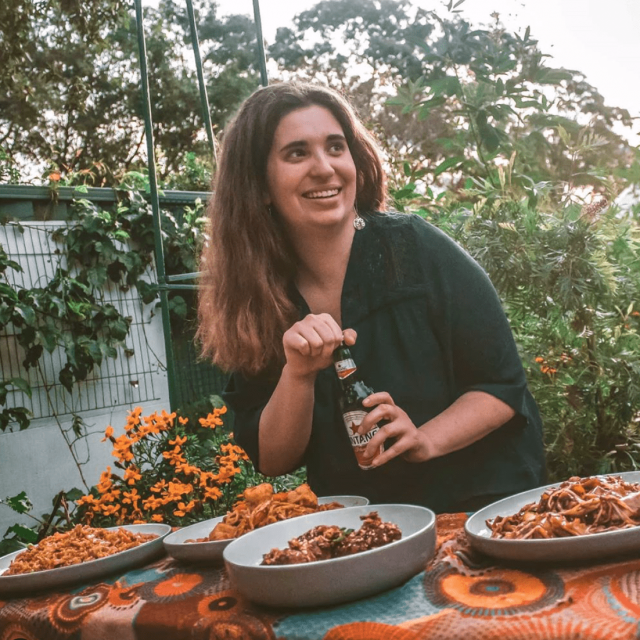 P'NUT STREET NOODLES' SPECIAL SATAY SAUCE RECIPE
At P'Nut Street Noodles we're proud to make sauces from scratch, serving up authentic Asian street food that's full of flavour and no nasties. Now you can make our special satay sauce at home.
Spice Paste:
6-8 long dried red chilies, seeded and soaked in warm water
3 cloves garlic
3 shallots
2 lemongrass sticks, white parts only
1 inch galangal
1 tablespoon coriander powder
½ tablespoon cumin powder
Peanut Sauce:
1/4 cup oil
2 cup dry roasted peanuts, unsalted
1 cup water
2 tablespoon brown sugar
1/2 teaspoon salt
1 tablespoon tamarind pulp, soaked in 1/4 cup water for 15 minutes, squeeze the tamarind pulp for juice and discard the pulp
1 cup coconut milk
Crush the peanuts coarsely with mortar and pestle or mini food processor and set aside.
Chop the spice paste ingredients and blend until fine.
Heat oil and fry the spice paste until aromatic and spices have released colour.
Add the peanuts, tamarind juice and water.
Add brown sugar and coconut milk and stir thoroughly.
Simmer in low heat while continue stirring for about 3-5 minutes until the peanut sauce turns smooth.
To create a satay stir Fry

:
500g chicken breast fillets cut into strips preferably free range or protein of choice
1 tbs oil
1 red capsicum small
1 cup broccoli
1/2 cup brown onion
P'Nut satay sauce
Heat oil in wok at medium heat
Add choice of meat along with vegetables and cook for 3-5 minutes
Once the protein is cooked, add peanut sauce with some water or stock. Toss for another minute
Serve with Jasmine rice and sprinkle some crushed peanuts
Get inspired!
We've cooked up an Indonesian feast for some P'Nut friends recently, so they can show us how they recreate Bali at home. This may help inspire you too: