Calling all noodle lovers to unite on Sunday 6th October to celebrate International World Noodle Day! Raise your chopsticks with cascading noodles in honour of this versatile carb that has been satisfying our hungry bellies for thousands of years.
What better way to celebrate this wonderful day than with P'Nut Street Noodles. We love noodles so much, it's in our name!
This World Noodle Day, Sunday 6 October, we are giving away a FREE Pad Thai with the purchase of every main dish. Whether you buy Penang Satay Noodles, Laksa Soup or Mongolian Stir-fry, you get a FREE Pad Thai. You just need to order a dish from the Street Food, Noodle Soup or P'Lite menu, so you can even get a Pad Thai and get another Pad Thai for free. This is a one day offer only, so be sure to mark your calendars and inform all your friends.
 While the debate over who is responsible for giving us this delicious staple continues, we reap the delicious benefits of the invention by adding flour and water then rolling it into long strings of various thickness. The addition of eggs, egg protein, various starch agents, and various base ingredients, gives us a very wide range of noodles types. Different flavours, thickness, shapes and lengths provide so many ways to enjoy noodles.
 To become a noodle pro, read below about some varieties of Asian noodles on offer.
Thick Yellow Noodles,
also known has Hokkien Noodles:
 A type of noodle that's very common is the yellow noodle made from flour, eggs and water. These noodles are the colour of an egg yolk and look like plumped up spaghetti. Their thicker width make them more filling and extra chewy compared to their thinner counterparts. These noodles are also short to medium in length and can be found in most Asian cuisines such as Chinese, Malaysian, and Thai. They differ in name depending on the type of cuisine and dish. For instance, they are called Lo Mein in Chinese but Hokkien in Thai, Malaysian and Singapore. Due to their thickness and slight elastic feel, these noodles are easy to handle and can be used in a variety of dishes, but are most commonly found in wok-tossed dishes. These noodles should be boiled in water before use, but you can now also get versions that are ready to eat out of the package. To get the most authentic taste, we recommend using noodles that require boiling prior to use, as then you can also adjust for the softness of the noodles.
 At P'Nut, you can find these juicy noodles in our Penang Satay noodles, Cashew Nut Noodles, Mee Goreng and Chilli Basil Noodles.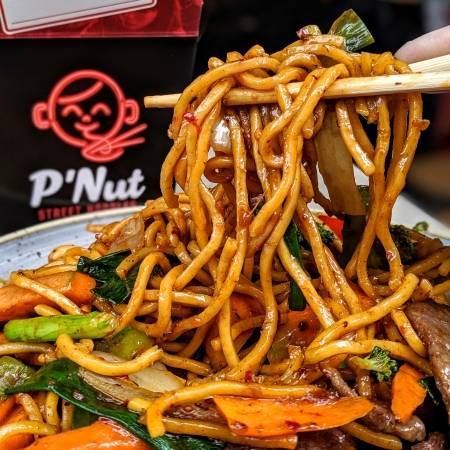 Thin Yellow Noodles,
also known as Chow Mein:
These noodles are the thinner versions of their plumped-up counterpart, listed above. Made from the same ingredients, these can vary in colour from off-white to yellow, depending on the amount of egg protein being used. These stringy noodles are long in length, making them great for slurping. Due to their long thin form, these noodles can be more delicate to handle than the thicker, shorter version. These noodles are also commonly used throughout Southeast Asia – popular in Chinese, Malaysian and Singaporean cooking. Depending on the genre of cuisine and dish, these thin noodles can be called Chow Mein or Ramen, and because of their thin width, these aren't as chewy as the Hokkien noodles but still have a bite to them. These noodles are very versatile in that they are used in soups and stir-fries and can be used after boiling, or if you love a crunch, then frying.
 At P'Nut you can find these delicious long, thin noods in our Wonton soup, submerged in the flavourful but light broth, or in our lunch specials, Teriyaki Egg Noodles, or in the Little Dumplings Menu in our Curly Wurly Noodles.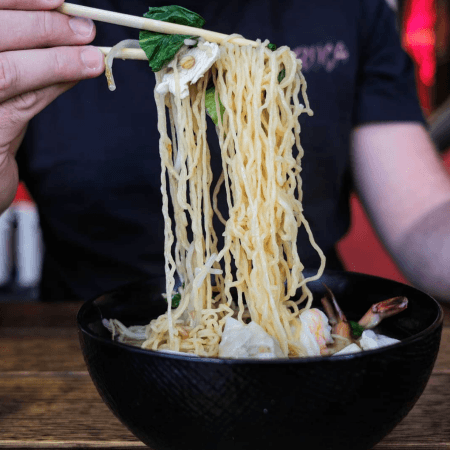 Glass Noodles,
also known as Dangmyeon
An alternative to the traditional flour and egg based noodles, these noodles are made from sweet potatoes. Use of a starchy agent gives these noodles a clear glassy and glossy look after boiling. Once boiled, they also have a slippery texture and are short to medium in length. More common in Korean cooking than most other Southeast Asian countries, these noodles are a great substitute for anyone looking for a vegan alternative. Traditional name for these noodles is Dangmyeon, but more commonly they are called either glass noodles, cellophane noodles or starch noodles. These noodles are most commonly found in a Korean dish called Japchae, which is a stir-fried dish with vegetables, noodles and protein of choice.
 At P'Nut, you can find these glossy noodles in our regular Teriyaki Noodles and Korean BBQ Noodles.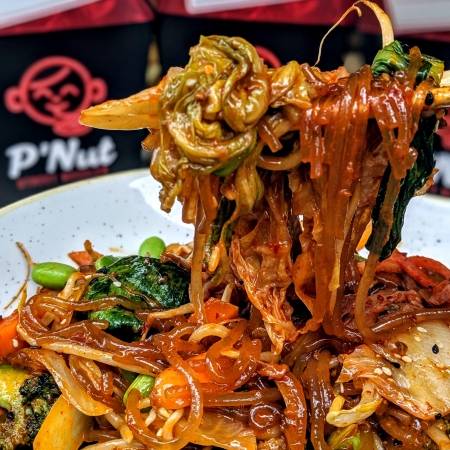 Flat Sheet Noodles,
also known as Kway Teow
 The widest kinds of Asian noodles, these rice based noodles are commonly known as rice cake strips, or flat rice noodles, and more traditionally called Kway Teow. These sheets of noodles are commonly used in Malaysian, Singaporean and Indonesian cooking and can be seen in popular Southeast Asian street foods, Char Kway Teow or Pad See Ew. The large width of these noodles make them ideal for soaking in the all the flavours of the wok as it has a large surface area for charring.  As with all noodles, boiling it in water to loosen and separate the sheets is ideal before cooking them.
 At P'Nut you can find these noodles in our Pad C U, and in the past we have used these in our limited edition Char Kway Teow for Indonesian Independence Day celebrations.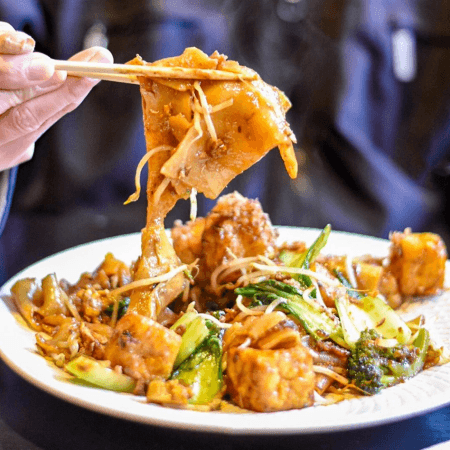 Vermicelli Noodles,
also known as Mei Fun
A traditional Chinese name for this rice based noodle is Mei Fun and Mi fén but it's also more commonly known as vermicelli noodles. These vermicelli noodles are not to be confused with glossy and translucent noodles which are much thicker in width, but also share the common name. Mainly used in cooking in China, Vietnam and Singapore, these vermicelli noodles are thin and can come in medium to long lengths. Due to their thin width, these noodles are prone to breaking when cooking and should be handled with care. In Vietnam you can find these noodles in rice paper rolls and fried spring rolls, while in Malaysian you can find these thin noods in the ever popular Laksa soup.
 At P'Nut you can find these thin rice noodles in our Singapore Street Noodles, Satay Salad and Laksa Soup along with Satay Vermicelli Noodles from our Lunch Specials menu.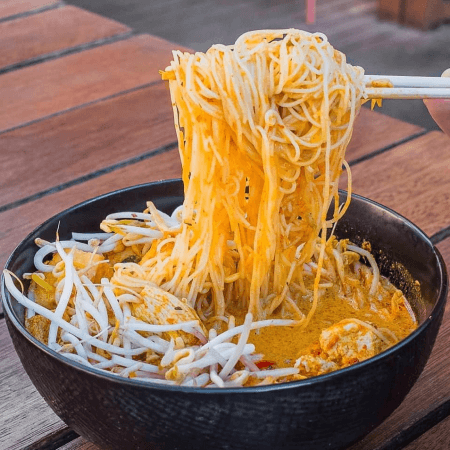 Stick Noodles, also known as Jantabo
on
Another noodle made from rice flour and water, but shaped very differently. While most noodles some in a cylindrical shape, these are flat and come in different widths. The most common width is if someone were to flatten a plump hokkien noodle. These also are long in length, making them great for slurping.  Traditionally called Jantaboon, but more commonly known as rice stick noodles or pad Thai noodles, because they are found in the the ever popular Thai street food, pad Thai. As they are a bit firm and chewy, they are easy to handle and are also used in pho, soups and stir-fries. Rice stick noodles make a great choice for those who are gluten free because they are only made from rice flour and water.  Boiling in water required prior to cooking because they are dry out of package.
At P'Nut you can slurp on these long rice stick noodles in our every popular Pad Thai as well. Made from Grandma's recipe, our tamarind-based pad Thai sauce simmers for over 2.5 hours. Wok tossed with home-style rice noodles and free rang eggs, our Pad Thai is a comforting and satisfying balance of sweet, sour and savoury, topped with crunchy peanuts and served with a wedge of lemon.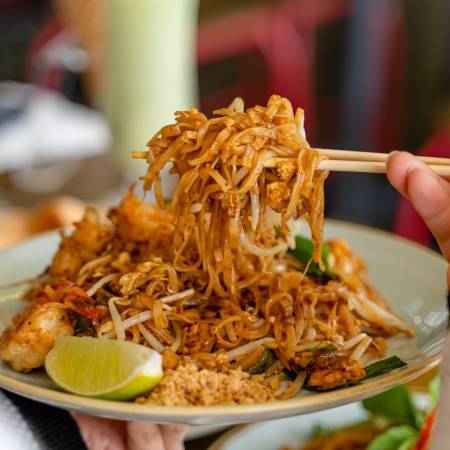 Don't forget you can nosh on our ever favourite Pad Thai for FREE this Sunday when you purchase a main to celebrate World Noodle day. This offer can only be found in-stores for 1 day only, so be sure to make you're way to your local P'Nut restaurant on Sunday 6 October.