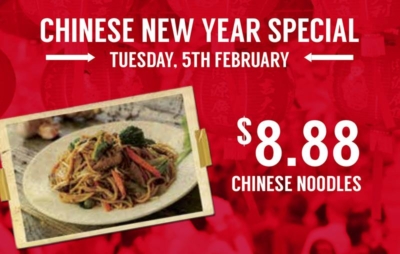 Celebrate The Chinese New Year With P'Nut!
My grandma loved gambling during Chinese New Year so I am continuing the same tradition at P'Nut, that's why on  Tuesday 5th Feb. our Good Luck Gamble is back for one day only!
After your order, you'll be handed a big red dice which you roll to earn yourself some FREE P'Nut dollars. With each roll, there's P'Nut cash to be won! That's right, everyone is a winner at P'Nut, unlike the casinos 🙁
And while my grandmother's favourite thing was gambling for the Chinese New Year, mine has always been to celebrate with food, that is why I'm also serving up my authentic Chinese Noodles for only $8.88 at all P'Nuts across Sydney, Brisbane and the Sunshine Coast on Tuesday 5th Feb., you can pick from chicken, tofu or vegetables, and we hope the triple 8's bring you lots of good luck and fortune for the new year!
Our Chinese New Year celebrations and deals are only in stores so come by your local P'Nut and ring in the Year of the Pig with P'Nut!