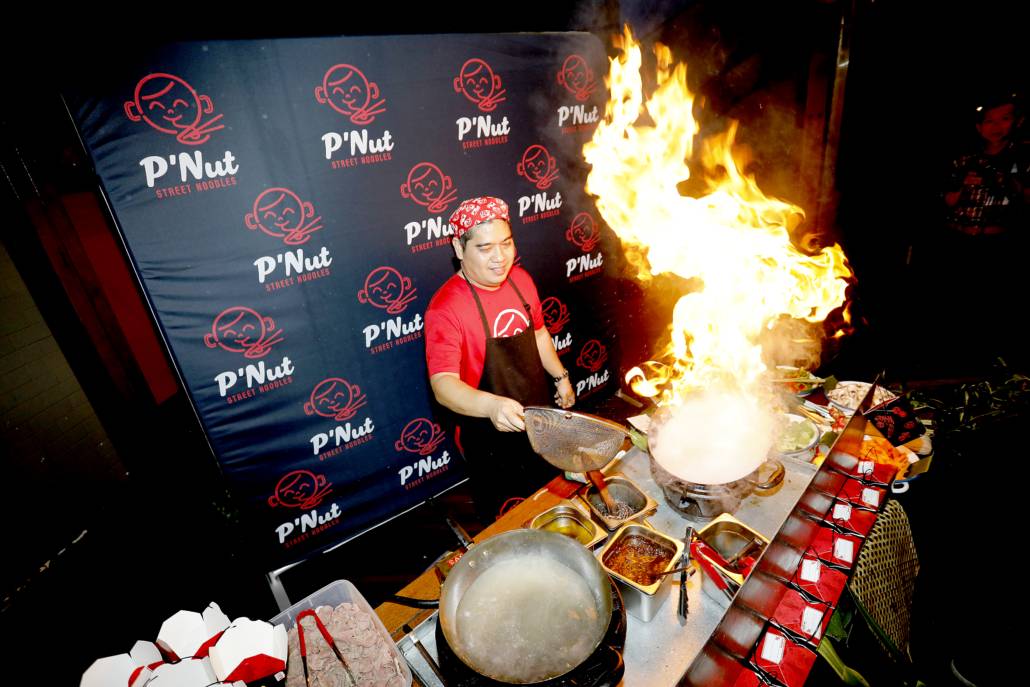 Christmas is just around the corner and that means the festive season is upon us. These next few weeks will be filled with lots of fun meet ups, gatherings, parties and celebrations. While it's a joyous time, the festive season can also bring its own stressors, and making sure your event runs smoothly can be a daunting task.  Enter P'Nut Street Noodles. With our catering service, you can take the stress out of Christmas party planning. We'll take care of the food and you can spend time with your guests rather than being stuck in the kitchen! Your party is sure to be a hit once your guests try out delicious Thai and Asian dishes.
At P'Nut, we're experts in party planning and hosting. Thai people love to party and use any excuse to host gatherings, and the food is always the main event. There is a reason Thailand is known as the land of smiles, because we love being hospitable and feeding our loved ones. With our catering, we can serve your loved ones too!
Whether it's an office function, a birthday or Christmas party, a reunion or just a catch up with friends, P'Nut can help you spice it up! The same passion we put in to serving you in our restaurants is put into our catering. Serving up authentic Southeast Asian flavours is what we do best.
Read on to see how we can spice up your next gathering.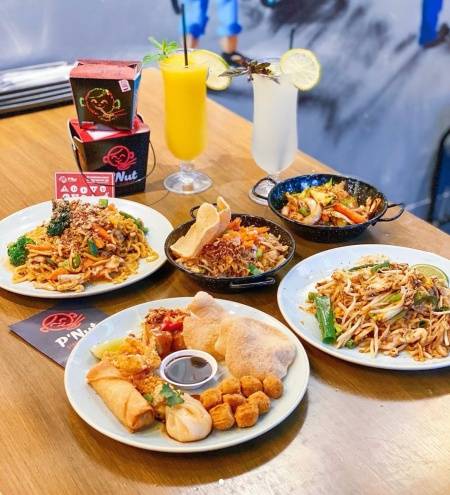 Catering for Office Meetings, Viewing Parties or Meet Ups
Gone are the days of boring sandwiches and predictable party platters – impress your guests with our fragrant, flavoursome noodles and scrumptious snacks. P'Nut noodle boxes come in flavours to suit all tastes – from favourites like Pad Thai and Pad C U to Penang Noodles with irresistible satay sauce suitable for vegans. All our noodles will make you want to keep on munching. While P'Nut takes care of the food, here are a few other ways in which we can help you plan the best events:
1) Something for Everyone
By making sure you cater for all your guests' dietary requirements, you'll win the hearts and tummies of all your guests! Whether you need vegan, vegetarian, gluten-free, lactose-intolerant or halal food options, we have it all. These options aren't tasteless and boring but full of flavour. Our fan favourite, and the national dish of Thailand, Pad Thai, is gluten-free and cooked in a sauce that simmers for hours, while our Penang Satay Noodles have the option to be made vegan. Another option for vegans is our Singapore Street Noodles in which you can choose to have tofu or vegetables as the star of the dish. This mini noodle box version of this dish along with our Teriyaki Egg Noodles have fewer calories for your guests who are still sticking to their diets during the holidays! We really do offer something for everyone, and when you make sure your guests get to eat something they love, your party is off to a great start!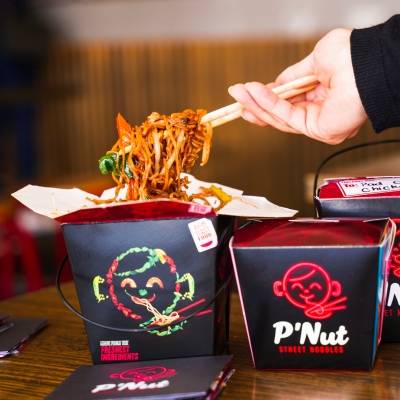 2) Snack Attack:
The perfect party or event keeps the snacks coming. After all, what's a festive season without yummy nibbles! The best snacks are the ones you can keep munching on without interrupting your socialising, meeting or event activities. Who has time to keep a slider intact while trying to mingle? You must also have enough variety to keep the tastebuds of your guests excited without filling them up before the main course. With our snack platters you have the option to pick from: vegetarian spring rolls with plum sauce, chicken dumplings with spicy soy sauce, chilli squid with sriracha mayonnaise, vegetarian's delight (a mixture of spring rolls and tofu puffs), the mixed classic platter (a combination of spring rolls, chilli squid and popcorn chicken), and the mixed steamed feast platter (a mixture of chicken dumplings, prawn dumplings and steamed vegetables drenched in P'Nut's famous satay sauce). With so many snack options, your party/event is sure to be a success.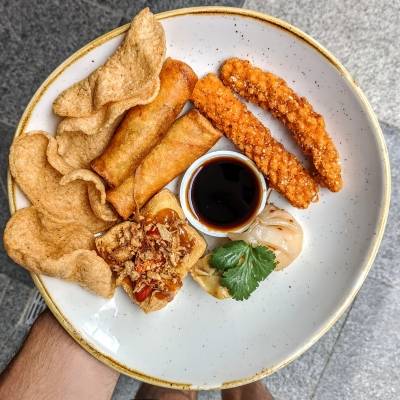 3) Warning!  Bold Flavours Ahead:
The bold flavours you find when you dine at any P'Nut restaurant can also be found in our catering. At P'Nut we start every dish with made-from scratch sauces using the highest quality ingredients. These sauces and pastes are hand-ground for us in Thailand, preserving the authentic flavours of Southeast Asia, using cooking methods that have been perfected over generations.
Southeast Asian cuisine uses certain ingredients to add depth and excitement to dishes. Fish sauce, shrimp paste, soy sauce or oyster sauce add saltiness and umami, while lime, lemon or tamarind add a sour taste. To add sweetness to a dish, ingredients such as sugar or honey may be used, and chillies and pepper to add heat and spice. At P'Nut we preserve the taste and recipes by still using fresh Asian herbs and spices. Fragrant galangal, ginger, garlic, and kaffir limes are just some regular ingredients you will find across all P'Nut dishes.
Keeping true to our street-food side, using traditional cooking techniques we cook your order fresh and hot prior to delivery or pick up, so you know you get food that's prepared just for you. Pick from some of our most beloved Street Food dishes as part of your catering order, such as Pad Thai, Penang Satay Noodles, Singapore Street Noodles, (very) Nasi Goreng, Teriyaki Egg Noodles or Poke Poke Salad. With so many authentic bold flavours, your party will be the best of the festive season!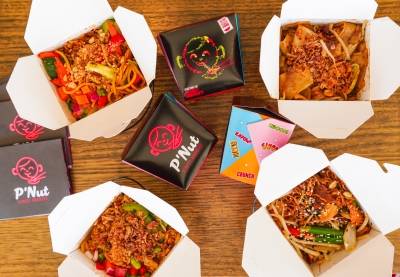 4) Bonus tip: Live Wok Experience – Provides entertainment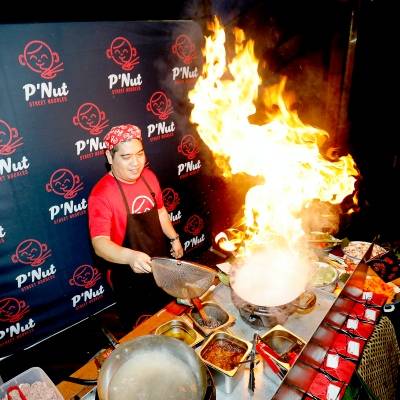 What's more entertaining than a festive party? A party with fire! When you opt for our on-site catering packages, we bring the theatrics of a flaming hot wok to you! It takes talent and years of training to wield a heavy metal wok with one hand, but our chefs will amaze your guests as they cook on site and in front of your guests.
High heat and the large surface area of the wok allow us to infuse ingredients with the flavours of sauces very quickly, preserving the freshness and nutritional value of the food, while also getting the food from wok to dish extremely fast. This means your guests won't be waiting around for the food to be served and you'll get fresh bold flavours combined with entertainment in one delicious package.
Sit Back and Relax.
Organising the food is one of the major hurdles to jump over when planning a party, but with P'Nut your biggest concern is taken care of. We offer catering services across Sydney, Brisbane and the Sunshine Coast, so call us on 1300 965 664 to chat to one of our catering experts and we'll have your next party planned with ease! Now the only thing you need to do is sit back, relax and enjoy spending time with your guests while P'Nut spices up your next party!