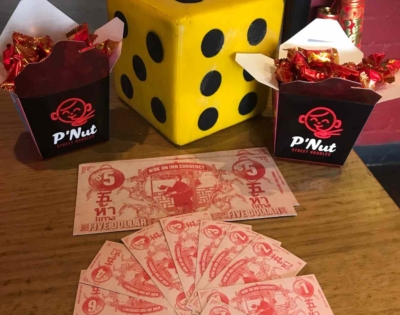 I love celebrations, and New Year's celebrations are my favourite! A new year brings about new beginnings. Which means, new flavours to discover, new dishes to dream up and create, and new food journeys to explore! I foresee the Year of the Pig being a very great and busy year for the P'Nut family, but it all starts with a great celebration!
Everyone has something specific they love doing when celebrating an event. For instance, my grandmother loves gambling during the New Year's, and I love to celebrate anything and everything with food. As my grandmother is a big part of my food journey, I decided to combine her and my favourite ways to celebrate into this year's Chinese New Year's at P'Nut.
To honour my grandmother's love for gambling, I decided we needed to turn all P'Nut restaurants into a casino! While I couldn't quite fit slot machines and blackjack tables into all the restaurants, I decided on the next best thing, and brought back our Good Luck Gamble, in which each and every customer that came through our restaurants on the 5th of February was asked to roll a big dice. After their roll each person won the equivalent in P'Nut dollars.
These free P'Nut dollars are for them to use at any P'Nut restaurant and goes towards their next order! We had people of all ages having such a good time rolling the dice, hoping it would land on six, as it was the highest amount of free money they could win! It was so much fun to get all our customers enjoying themselves at Casino P'Nut, and you know we pay out each and every customer!
While I get to cook everyday and celebrate life, I thought to make the Year of the Pig extra special by offering my authentic Chinese Noodles for only $8.88 on the day! Talk about triple the luck with three 8s! My Chinese Noodles are my interpretation of China's favourite food – The "Chow Mein" (??). The Chow Mein is the Cantonese pronunciation of the Chinese characters above, which means stir-fried noodles. Generally speaking, this stir-fried dish consists of noodles, meat, onions and celery.
Of course, my Chinese noodles are made with our Chinese oyster sauce which has over 25 different ingredients including garlic, ginger, Chinese five spice, Chinese cooking wine, soya sauce, and mushroom sauce. This gives the sauce the strong, bold flavours that take you to the streets of Shanghai with each bite! Other popular Chinese dishes in my menu include Wonton Soup, Dumplings and Spring Rolls.
I truly enjoyed celebrating the Year of the Pig with my P'Nut family. The next celebration that we'll be having at all our restaurants will be Sonkran, which is the Thai New Year, and is coming up in April! How amazing it is to be able to celebrate 'New Year' multiple times through the calendar year! Like I said before, I love celebrations!
Until the next big celebration, remember to celebrate life with your loved ones and some delicious noodles, stir-fries, fried rice, salads or soups.
Get some takeaway and enjoy at home, or dine at any of our 11 restaurants across Sydney, Brisbane or the Sunshine Coast. With a P'Nut near you, you can celebrate everyday!