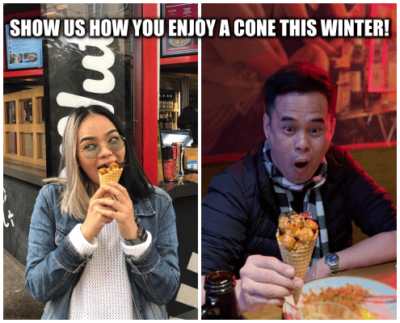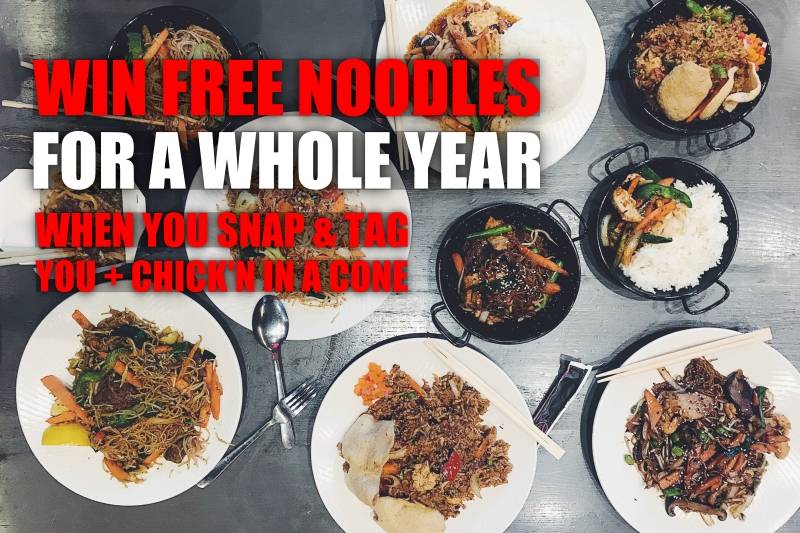 Show Us How You Enjoy A Cone This Winter
And You Could Win FREE Noodles For A Year
Our Chick'N in a cone gives you another reason to bite into a cone during these cold months being the perfect winter warmer treat. Cage-free popcorn chicken bites stuffed into a crunchy waffle cone, drenched in sweet plum and then drizzled with creamy Sriracha mayo. It is trendy, delicious and 50% off for the month of July.
Biting into one of these mouth-watering treats could win your a whole year of noodles!
All you have to do is show us how you enjoy a cone this winter – Snap & Tag a photo of you and our Chick'N in a Cone
Competition details:
Snap a photo of yourself enjoying our Chick'N in a Cone and post it to our official competition page on Facebookand Instagram.
If entering through Instagram you must tag us (@pnutstreetnoodles) and use the correct hashtags (#pnutstreetnoodles and #chickninacone).
If entering through Facebook you must post your photo in the comment section of the official competition post.
Competition will run from Friday 19th July until Wednesday 31st July.
Enter as many times as you like.
1 winner will be picked by the P'Nut team between all the entries through Instagram and Facebook.
Winning entry will be picked based on creativity, so grab a cone and get creative!
Prize Details:
1 winner will receive year worth of noodles.
Winner is entitled to 1 free main, with protein of choice, per week, for 52 weeks.
Prize is valued at $884.
General Terms and Conditions:
Entries must be posted to the official Competition post on Facebook and or posted on Instagram using the appropriate tags and hashtags (@pnutstreetnoodles, #pnutstreetnoodles, #chickninacone).
Only entries posted to the official FB Post and posts on IG with the correct hashtags and tag will be considered for the competition.
Contest will run from Friday 19th July until 31st July 2019.
Winner will be picked and announced after the competition period ends.
This prize cannot be exchanged for another prize or for monetary value.
The P'Nut Team will choose the winning photo after the 31st of July.
All content collected through the competition becomes property of P'Nut Street Noodles and can be used for future marketing purposes.
By entering the competition you agree to hand over all intellectual rights to content submitted.
Winner is entitled to 1 free main, with protein of choice, per week, for 52 weeks, valuing up to $884
No snacks or drinks are included in the with the main.
Each main ordered will be tracked through the '52 Meals' card provided to the winner.
If the card is lost, stolen, or damaged, it cannot be replaced and the remainder of the prize will be forfeited.
The Promoter is P'Nut Street Noodles Pty Ltd ("the Promoter").
Information on the prizes, and how to enter the competition, form part of the terms and conditions.
Employees of the Promoter and agencies associated with this promotion and their immediate families are ineligible to enter.
Promotions are open to Australian residents only.
Entries for the same prize can be made via Facebook or Instagram. Entries submitted via Instagram must be made through a public Instagram account.
Entries must be received by the Promoter during the promotion period stated. Entrants may submit multiple entries during the competition, however, each Entrant is eligible for only one prize.
For an entry to be deemed valid, Entrants must follow all competition guidelines stated by the Promoter. On Instagram, this may include using a specific hashtag and tagging the Promoter's account. Failure to do so will result in an invalid entry.
By participating in this competition, all submissions will become the property of the Promoter. Entrants give the Promoter permission to use their submissions for printing, social media, publicity and promotional purposes without compensation. This including, but not limited to, the P'Nut website, all P'Nut social channels.
The Promoter reserves the right, at any time, to verify the validity of entries and the identity of entrants. Proof of entry and identity will only be deemed as sufficient at the discretion of the Promoter.
Winners will be announced via P'Nut page or blog, and will be asked to provide either their email address or postal mailing address. Winners will be given 7 days to respond to confirm validity and be awarded the prize. If the prize remains unclaimed after this time period, the Promoter has the right to deem the winner ineligible and review other entries and award the unclaimed prize.
The Promoter takes no responsibility for late, lost or misdirected entries. Incomplete, illegible or incomprehensible entries will be deemed invalid.
Prizes are not transferable or exchangeable, and cannot be redeemed for cash. The Promoter accepts no responsibility for any variation in the value of prizes, and is not liable for any additional costs associated with winning the competition, or the prizes that comprise this competition. Where a prize becomes unavailable for any reason, the Promoter reserves the right to substitute a different prize item of equal or lesser value, as determined by the Promoter.
If for any reason the promotion is not capable of running as planned, the Promoter has the right to cancel, terminate, modify or suspend the promotion at their discretion.