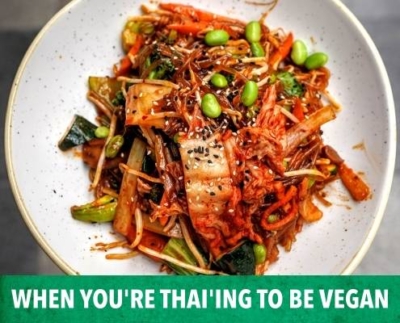 Some trends are short lived, as they should be, but some trends become part of a movement that motion society forward in a positive direction, such as the rise of the vegan movement. Whether it is for humane reasons, to lose weight, or to combat global warming, more and more people are opting to cut animal products completely out of their diet.
Chef P'Nut has always been about making his food available to as many people as possible, and so with the changing times, he decided to make sure his new menu had plenty of vegan options, because when you're Thai'ing to be vegan, you should still have plenty of delicious options! Sorry for the pun, but we had to. Hehe.
Thai food is already famously dairy-free, with no use of butter, milk or cheese in traditional Thai recipes; it is one step closer to being vegan than most other cuisines. Thais love their vegetables, and with meat being scarce in the villages, most traditional dishes used shrimp, fermented fish or freshwater fish, all of which can be easily substituted for or left out completely by using vegetables or tofu.
One of the challenges of reconstructing traditional dishes while eliminating a part of it is that you have to reinvent it while still keeping the taste as authentic as possible.  Chef P'Nut tried to find the most authentic substitutes as possible. Thai dishes try to balance four main flavours of sweet, salty, sour and spice. Sweet, sour and spicy flavours are added by non-animal ingredients such as palm sugar, tamarind pulp, and chillies, respectively, however, salty flavours are added through the use of either fish sauce or oyster sauce, and can be easily substituted with soy sauce. Giving a vegan substitute without compromising on the authenticity of the taste.
With noodles being one of the main carb components of Thai dishes, your options for vegan noodles are plenty. You can substitute egg noodles for rice-based noodles, sweet potato noodles, which were recently added to the P'Nut menu, or if noodles is not what you crave, you even have rice as a vegan carb option.
While researching for best vegan ingredients, P'Nut even took suggestions from vegan food bloggers, experts in all things vegan and food!  He asked what protein options they preferred. If they opted to have their noodles and stir-frys with fresh vegetables, tofu or meat substitutes such as mock chicken.  Most of their feedback was to have tofu, fresh vegetables or both and ranking mock chicken as their last option. A general consensus was that once they chose to become vegan, they appreciated and loved eating more vegetables and plant based ingredients such as tofu, helping P'Nut decide completely against the use of mock chicken as a vegan option in the new menu.
Once chef P'Nut had finalised the vegan dishes, he invited vegan bloggers into P'Nut for a taste testing.  You can read what Brisbane-based vegan blogger Michelle (@run2food) thought about here. We also had Nathalie Sore come by, Nathalie is a Sydney based vegan and lifestyle blogger, and you read about her visit here.
The new vegan options at P'Nut have been carefully curated with you in mind. With all the feedback from experts and months of researching, cooking, and taste testing, chef P'Nut made sure it was true to the vegan promise of being free of any animal products, while also being authentic to the taste and flavours of P'Nut.
The new vegan options at P'Nut have been carefully curated with you in mind, with all the feedback from experts and months of researching, cooking, and taste testing. Making sure it cohesively ties in the authentic taste of P'Nut and traditional Thai recipes, while still staying true to the vegan promise of being kinder to animals, the planet and you.
When navigating our new menu, do pay attention to dietary tags as we have tagged each dish for your convenience. Each dish tagged VG is completely vegan if you pick tofu or vegetables as the star of your dish, with all the sauce and noodles being vegan friendly. All dishes tagged VG+ have the option to be vegan and will require you to swap out non-vegan ingredients for vegan options by request to our servers, for example, swapping out eggs noodles for sweet potato noodles, rice-based noodles or rice if you were to pick Teriyaki Egg Noodles from the Lunch Specials menu. Be sure to let our servers know you are vegan so they can properly guide and advise you on each dish.
We've compiled a list of vegan and vegan options dishes below:
Street Food Dishes:
P'Lite Option:
Little Dumplings:
Snacks:
Lunch Options:
With the creation and launch of our new menu, P'Nut has truly tried to give you as many delicious vegan dishes as possible without compromising on the integrity and authenticity of flavours; while keeping your love of animals, planet and your health in mind.