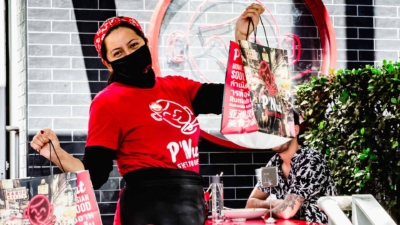 P'Nut Street Noodles is open 7 days a week for home delivery, so we can continue to provide your Asian soul food fix and comfort you with tasty, soul-warming meals! Get your street-food fix delivered to your doorstep in just a few taps.
Because we're nuts about you, we're offering a special treat with FREE DELIVERY from Monday 26th April to Monday 3rd May when you order via the P'Nut delivery service on pnut.com.au.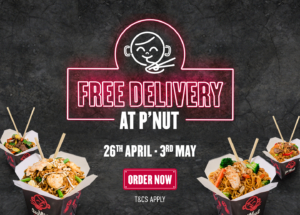 Need Dinner Inspiration? We've got you.
Our family deal is perfect to feed the whole tribe and keep everyone happy.
Choose from any 2 mains or soups with chicken, tofu or vegetables + 2 kids meals + choice of 2 snacks.
Oh and all kids meals come with free collectable chopsticks! Collect them all!
There's nothing better than cosying up with a warm plate of asian soul food! Date night sorted.
Choose any 2 mains + 1 side + 1 naughty box.
We're here to spice up your gatherings! Suitable for 6-8 people, choose 6 mains with your choice of protein from our Pad Thai, Nasi Goreng Penang, Chilli Jam or Mongolian + 1 Family sized Fried Rice + 10 pieces of spring rolls of your choice
Consider this the hassle-free guide to catering!
Don't miss out! Offer is for a limited time only.