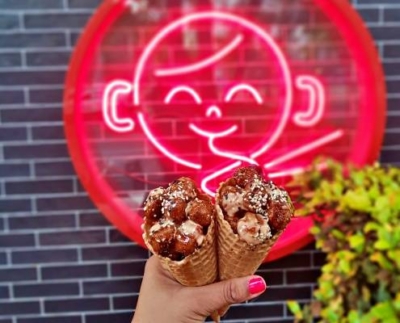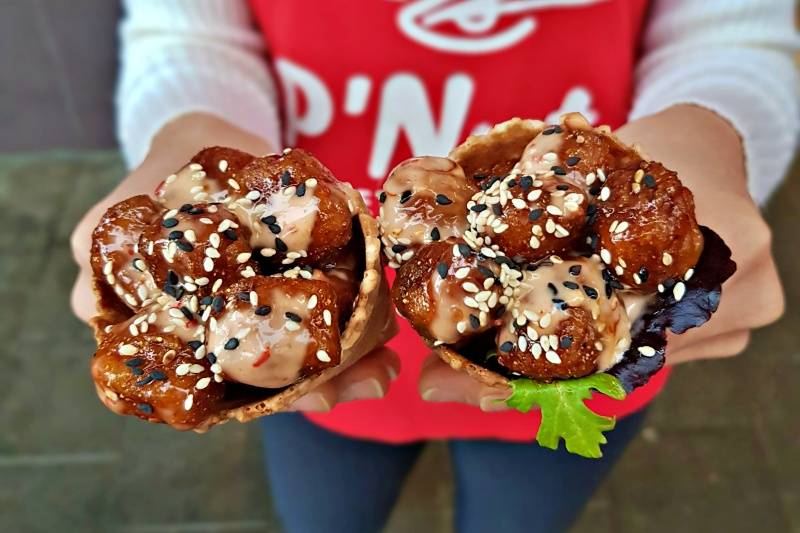 Giving you another reason to bite into a waffle cone this winter, P'Nut's most Instagrammable dish is celebrating International Fried Chicken Day, with 50% off whole of July & August.
It's what Instagram dreams are made of: a crunchy waffle cone stuffed with mouth watering fried chicken bites, drizzled with a creamy flavour-bomb sauce.  Waffle cones aren't just for ice cream anymore, Chick'N in a Cone the perfect winter treat that's a warm hug for your tastebuds.
Battered and deep-fried, cage-free popcorn chicken bites are drenched and tossed with sweet plum, giving it a sticky-sweet-finger-licking coating of goodness. Bites are then stuffed into a crunchy waffle cone, drizzled with our signature Sriracha mayonnaise, giving it a perfect balanced hint of chilli against the sweet morsels of chicken. We finish it off with a sprinkle of toasted sesame seeds, because what's a cone, without some sprinkles?
Besides the delicious combination of flavours and for a chance to join the #foodporn nation, here's some more reasons to bite into our Chick'N in a Cone:
Celebrate International Fried Chicken Day.
Today, Saturday 6th of July, is International Fried Chicken day and what better way to celebrate this delicious holiday, than to raise a cone? Our fried bites of popcorn chicken give you another way to enjoy the chook, by putting our P'Nut twist to the classic combination of chicken and waffles. Giving you a 'to-go' version, swap out the maple syrup for sweet plum and add creamy Sriracha mayo. At P'Nut we have a yin and yang thing happening in our cooking, so to balance against the sweet flavours, we add a bit of heat to excite! With a combination like that, you have a glorious creation of flavours, worthy of celebrations. Happy International Fried Chicken Day!
50% Off For The Whole Month Of July & August.
Our Chick'N in a Cone is 50% off for the whole month of July & August. No secret discount codes or handshakes needed, just head into any of our 11 P'Nut restaurants across Sydney, Brisbane and the Sunshine Coast and get the Chick'N in a Cone at half price. That's $5 off the regular price of $9.95. Deal is valid for dine-in, and takeaway orders and even valid for online orders when order through our website, so click to order now, if you're feeling hungry.
Just In Time For School Holidays.
While taking the kids for ice cream may not be the best option on these colder days, you can bring them to P'Nut for another kind of cone these school holidays. If you have lots of plans, the kids can enjoy this snack on the go with our popcorn chicken perfectly stuffed in the 'to-go' edible cone. If you're dining in, ask for our kids activities sheet, it's bound to provide extra entertainment for the kiddos while you enjoy your meal. Just imagine the moments of silence you'll have while they're busy enjoying the popcorn chicken bites and crunchy waffle cone, and finding the word 'noodles' in the word section activity section. Ahhhh, #winning at parenting.
Kinder, and Sustainable.
P'Nut learned from his grandma at a very young age that the ingredients you use in your dishes massively impact the quality and taste, so he always tries to live by those standards.  Chick'N in a Cone uses Tegel's cage-free chicken, where the chooks are raised in modern well-equipped barns and are free to roam and have ready access to food and water. You can read more about the quality on the company's website. The use of best ingredients isn't the only value we live by, we're also big believers of social responsibility, that is why we are  looking for more ways to do our part for the environment. When you order our Chick'N in a Cone to go, our takeaway boxes are picked with the environment in mind.
As they say, you eat through your eyes, so if you need to get your tastebuds excited and ready, check out the video that had The Daily Telegraph drooling, and if you're ready to order, click 'Order Now'  to get yourself a crunchy cone stuffed with tender drenched bites, or just head to our locations page to find your nearest P'Nut.
However you enjoy your cone, don't forget to tag us on Instagram (@pnutstreetnoodles) and use the hashtag (#pnutstreetnoodles) for your chance to be entered into our monthly draw to win $75 P'Nut voucher so you can treat your favourite people and yourself to some authentic flavours of Southeast Asia.