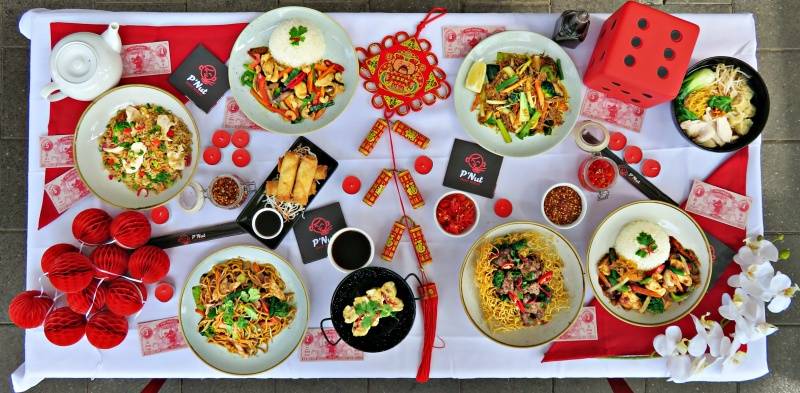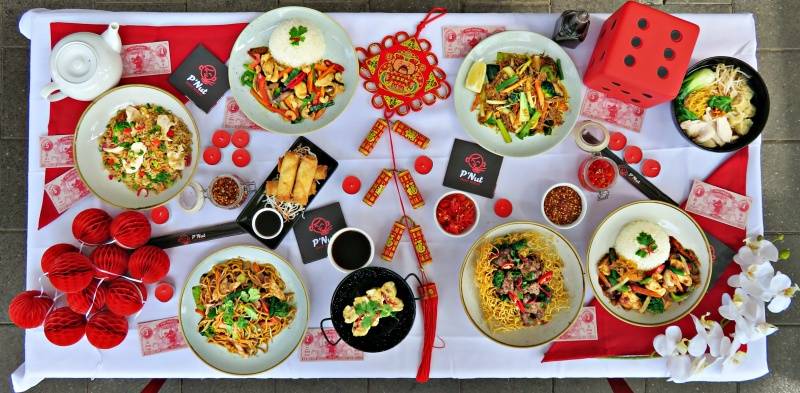 The most important festival on the Chinese calendar is nearly upon us – Chinese New Year! At P'Nut we like to share the best of South East Asian food and cultural events with our guests, so we're hosting celebrations for everyone to enjoy. Before we delve into what those celebrations will be, here's a brief overview to show how Chinese New Year is traditionally celebrated.
The first day of the Chinese New Year in 2020 will be Saturday, 25 January. This signifies the beginning of a new year on the traditional Chinese lunar calendar. 2020 is the Year of the Rat.
The Chinese lunar calendar is ruled by lunar phases, the solar solstices and equinoxes. The Yin and yang principles (balancing opposites) that make up a harmonious world also play a part. Chinese New Year falls with the new moon, so it changes slightly in date every year.
Each new year is marked by the 12 Chinese signs or zodiac animals – Rat, Ox, Tiger, Rabbit, Dragon, Snake, Horse, Goat, Monkey, Rooster, Dog and Pig.
Traditionally it's a time when business life has a break, and family takes the limelight. In the lead up, houses are cleaned to appease the gods and set up for a fresh start.
This is still recognised as an important family time, with China declaring a week-long vacation called Spring Festival, giving people the opportunity to travel home to spend it with family.
Colourful dragons parade lantern-lined streets and red decorations adorn homes and buildings.
Food items and paper decorations are offered as sacrifices to the gods.
Good luck ornaments are exchanged between friends and families.
Then there's the feasting.
Families come together over delicious meals with certain items of the menu meaning different things. Dumplings symbolise the family unit, while long noodles symbolise long life, and fish is often served to symbolise abundance.
Welcome to the Year of the Rat: Chinese New Year At P'Nut Street Noodles
To get into the Chinese New Year spirit at P'Nut, from 18 – 25 January we'll be running Chinese New Year specials, with 8 specials for $8.88, available for 8 days. In Chinese culture 8 is considered a lucky number and so we wanted to showcase 8 delicious Chinese dishes, including:
Mongolian Stir fry with Jasmine Rice – NF, VG+
Wonton Soup – NF
Vegetable Spring Rolls x 4 – NF,  VG
Spicy Chicken Dumplings x 8 – E, NF & 1 chilli
Chinese Noodles NF
Chinese Fried Rice NF, E
Kung Pao Chicken with Jasmine Rice VG+
Singapore Street Noodles NF, E, VG+ & 2 Chillies
Not only will we be showcasing the flavours and iconic dishes of China, we'll also be running fun activities in restaurantsin which guests can win prizes and P'Nut dollars.
Some of the games include:
Roll The Dice – A big, red dice will be found at the P'Nut counters. After ordering, you can toss the dice and whatever number it lands on, you get back in P"nut dollars. So roll a 6 and you get $6 to spend next visit!
Spin The Wheel – the same concept as above with a big wheel (selected restaurants)
Dumpling making class at the Rouse Hill restaurant (8 Feb)
Find The Golden Chopstick – Find a golden chopstick hidden in restaurants and claim a prize!
Chinese New Year Workshop For Kids: 
P'Nut Street Noodles Rouse Hill is hosting a fun and cultural school holiday event for kids and parents to kick off Chinese New Year.
There will be loads of activities and delicious tasters for kids and parents alike with four activity stations. Lunch included!
Activities include: 
Station 1) Kids can explore the textures and tastes of Southeast Asian ingredients and learn how to make dumplings with Chef Nut. A hands on experience!
Station 2) Activity sheets – colouring sheets for kids and fortune cookies
Station 3) Face painting!
Station 4) Play Spin the Wheel and Roll the Dice for prizes and giveaways. WIN P'Nut dollars!
Kids can choose from one of the following dishes:
Curly Wurly Noodles
Lucky Fried Rice
Popcorn Chicken with Jasmine Rice
Adults can choose from the following dishes:
Chinese Rice
Kung Pao Chicken.
Dumplings will also be served. Dishes included in ticket price.
Purchase tickets here and join in the fun: PNut Chinese New Year Workshop for Kids!
Kung hei fat choi everyone!