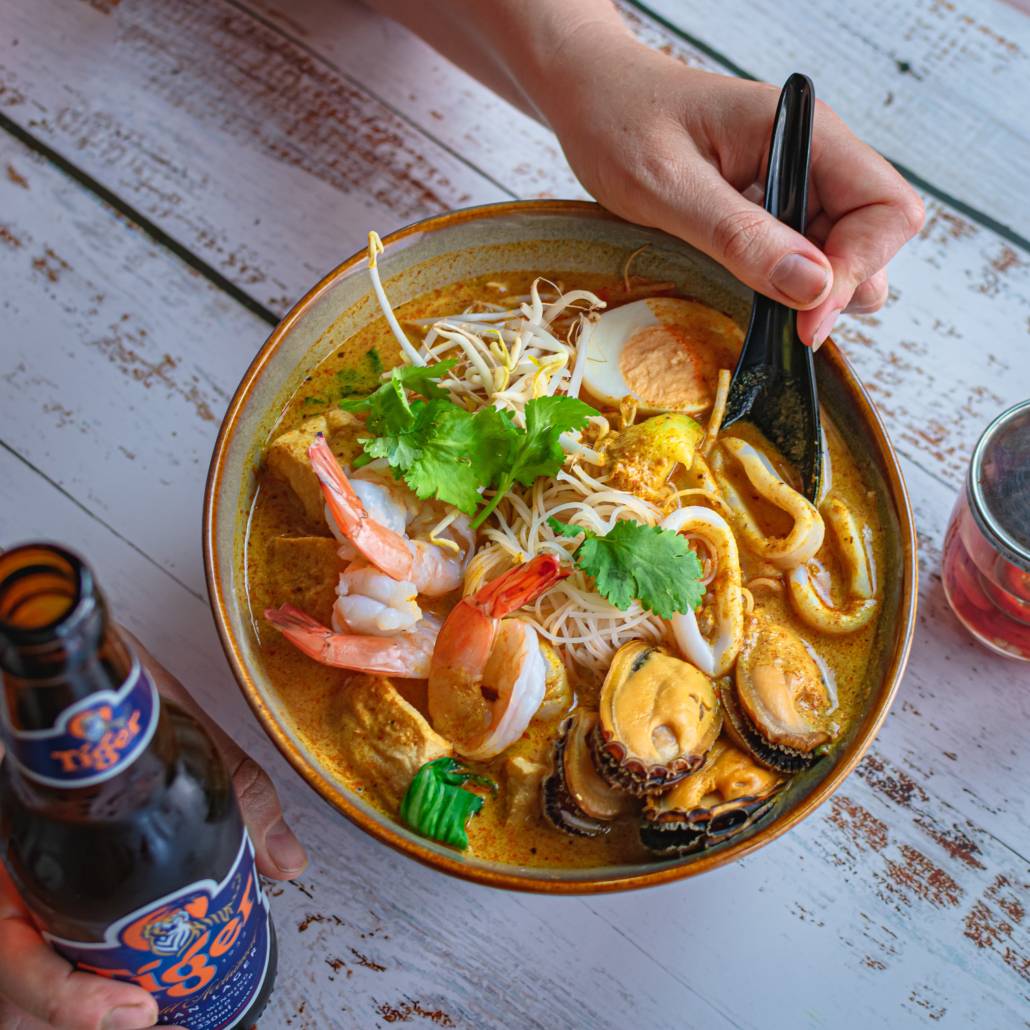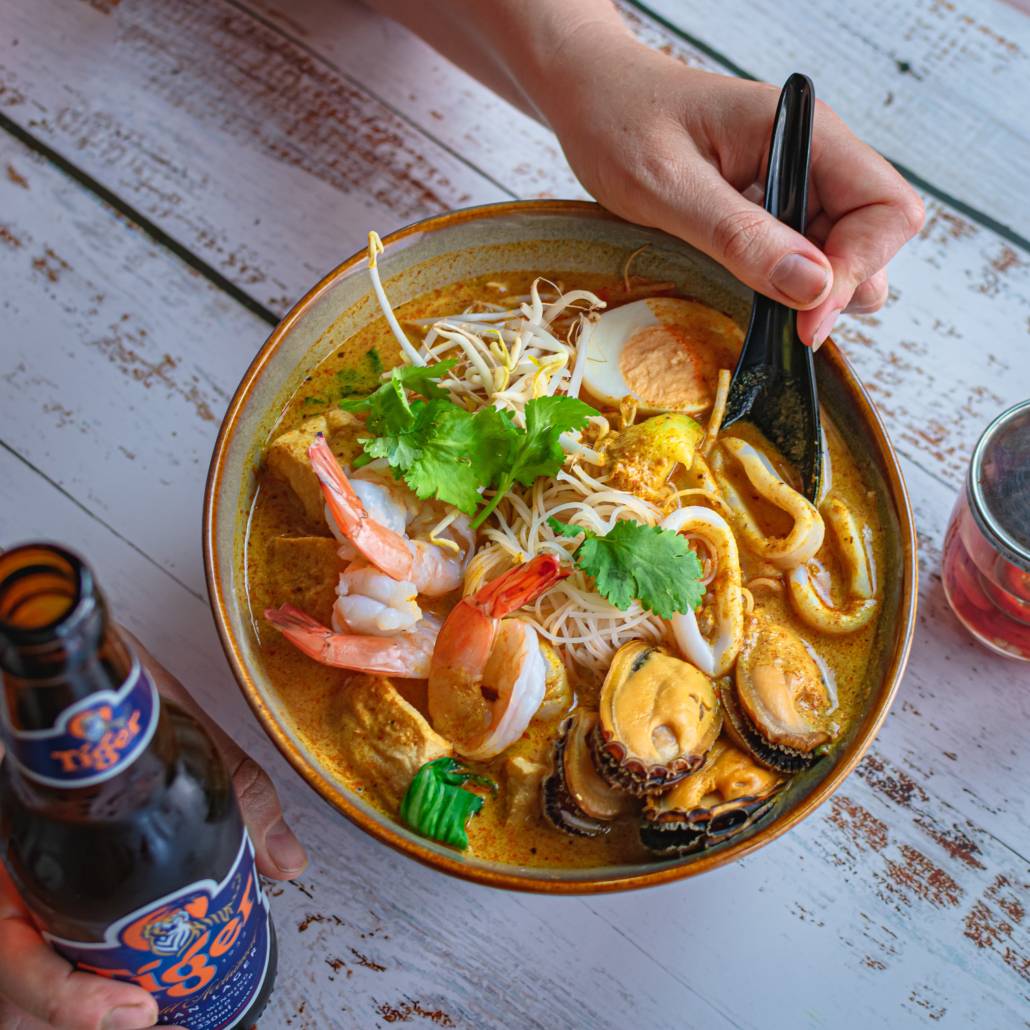 The short answer is yes, but don't worry, here at P'Nut Street Noodles we have lots of tasty gluten-free options to please the taste buds and belly!
According to Coeliac Australia, gluten is a protein found in wheat, oats, barley and rye. It helps foods maintain their shape, but for people who are coeliac or gluten intolerant, it can have some nasty effects on the digestive system. Gluten can be found in many types of foods and drinks including bread, cereal, beer, pasta and heaven forbid – noodles!
So the answer is yes, many Asian foods do contain gluten, but the good news is that here at our restaurant, we have an array of delicious gluten-free Thai food!
A key Asian ingredient usually containing gluten is soy sauce, which also forms a big part of other sauces, such as Teriyaki, Hoisin and Black Bean. People with a gluten intolerance should seek medical advice and avoid soy-based dishes.
Here at P'Nut we love to create delicious dishes catering to a range of dietary requirements. On our menu you can find dietary tags informing guests if dishes are vegan, gluten-free, nut-free or dairy-free, making eating out easier.
Gluten free options at P'Nut
P'Nut's satay, rice noodle or coconut milk based dishes are great gluten-free solutions. Peanuts form the base of our rich, aromatic satay sauce which is made from scratch with coconut milk and curry paste.
Pad Thai
Satay Salad
Laksa Soup
Tofu Puffs with Satay Sauce
Buddha's Harvest Vegetables with Satay Sauce
Satay Vermicelli Noodles (Lunch Special)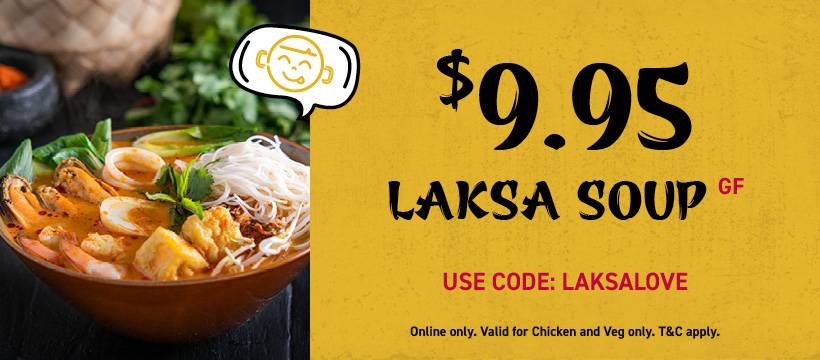 Gluten-free recipe – P'Nut's Satay Sauce
INGREDIENTS:
Spice Paste:
6-8 long dried red chilies, seeded and soaked in warm water
3 cloves garlic
3 shallots
2 lemongrass sticks, white parts only
1 inch galangal
1 tablespoon coriander powder
½ tablespoon cumin powder
Peanut Sauce:
1/4 cup oil
2 cup dry roasted peanuts, unsalted
1 cup water
2 tablespoon brown sugar
1/2 teaspoon salt
1 tablespoon tamarind pulp, soaked in 1/4 cup water for 15 minutes, squeeze the tamarind pulp for juice and discard the pulp
1 cup coconut milk
METHOD: 
Crush the peanuts coarsely with mortar and pestle or mini food processor and set aside.
Chop the spice paste ingredients and blend until fine.
Heat oil and fry the spice paste until aromatic and spices have released colour.
Add the peanuts, tamarind juice and water.
Add brown sugar and coconut milk and stir thoroughly.
Simmer in low heat while stirring for about 3-5 minutes until the peanut sauce turns smooth.
Order online today
Now is the perfect time to test out gluten-free dishes at our restaurant (or order takeaway), with Laksa Soup on special for just $9.95 this July.  Our Laksa Soup is a hearty and comforting dish featuring the flavours of Malaysia in a bowl! With a curried coconut milk base that is spiced with lemongrass, combined with fresh vegetables and your favourite protein, it will awaken the senses. An added bonus – it's gluten free!
To redeem the deal, use the code "LASKALOVE" when ordering online here.
As the home of Asian soul food, we provide honest, tasty dishes that are full of fragrant flavours to warm the soul. See our latest special offers here.