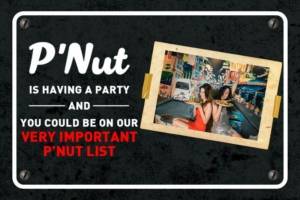 And you could be on our Very Important P'Nut list!
The past couple of months have been amazing for us at P'Nut! We have rebranded from Wok on Inn to P'Nut Street Noodles to honour our founding chef, Nut. We opened up two new locations, P'Nut Dee Why in Sydney and P'Nut Kawana in the Sunshine Coast. And now, we are launching a new menu!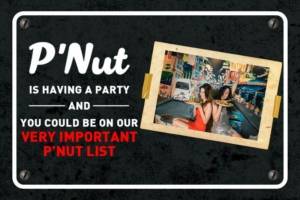 P'Nut, or chef Nut, has been working very hard for the past year on new dishes, revamping some of the older ones and most of all, making a cohesive menu that is a part of him, his childhood and his travels on a plate. To celebrate our new menu, we're having a party!
Our launch party will be a night to remember because we going all out!
If you manage to get a spot on our VIP list, you will mingle with and get to know some of Sydney' best food bloggers and media personalities. Get your selfie game on at our P'Nut selfie wall and spend the night away listening to some great entertainment while drinking away our signature cocktails. The best part of it is, you and your guest get to try P'Nut's new menu before the general public! How amazingly delicious is that!?
To get on our VIP list, all you have to do is:

Take a photo of yourself enjoying your favourite P'Nut dish – Tell us which dish you love and why.
Post it to our Facebook page or tag us on Instagram (& use #Pnut and #Pnutlovestoparty).
Get all yours friends and family to give your post a Like.
Top 10 posts with the most likes by 12PM (AEST) Friday 29th March gets an invite to our launch party, so get clicking!
Teh winner gets a +1 so you and a friend can try P'Nut's new menu before the general public. Woohoo!
P'Nut can't wait to celebrate you, so get yourself to your local P'Nut and get yourself selfie-ready!
P.S.: Make sure you read all the T&C's below before you enter:
Competition Terms and Conditions:
Participants must post a photo of themselves enjoying P'Nut Street Noodles and post it to our Facebook Page (fb/PNutStreetNoodles) or tag us on Instagram (@PNutStreetNoodles) to be eligible for entry into the contest.
If the photo is taken at a P'Nut Street Noodles Restautrant – the entry caption must state which location, along with which dish is being featured and why they love that dish.
If the photo is taking of takeaway meal, the company logo and food must be displayed in the artwork.
Contest will run until 12PM (AEST) Friday 29/3/19
Total of ten winners will be picked after the contest ends.
This prize cannot be exchanged for another other prize or monetary value.
Top ten most liked photos will be chosen as the winners of the contest.
Winners will be on P'Nut's VIP list for the P'Nut Launch Party held on 3rd April, 2019 at P'Nut Street Noodles at The Rocks, Sydney.
Winners are allowed to bring one guest with them to the P'Nut launch party.
Winners must make their own way to the party and P'Nut Street Noodles is not responsible for any transportation costs required to attend the P'Nut Launch Party.
This prize cannot be exchanged for a monetary value and is non-transferable.
If the winner is not able to attend the launch party, another contestant with next highest amounts of likes will replace the original winner.
All posts/photos submitted for the contest can be used by P'Nut Street Noodles for marketing purposes and becomes property of P'Nut Street Noodles PTY Ltd.
The Promoter is P'Nut Street Noodles Pty Ltd ("the Promoter").
Information on the prizes, and how to enter the competition, form part of the terms and conditions. Employees of the Promoter and agencies associated with this promotion and their immediate families are ineligible to enter.
Promotions are open to Australian residents only.
Entries for the same prize can be made via Facebook or Instagram. Entries submitted via Instagram must be made through a public Instagram account.
Entries must be received by the Promoter during the promotion period stated. Entrants may submit multiple entries during the competition, however, each Entrant is eligible for only one prize.
For an entry to be deemed valid, Entrants must follow all competition guidelines stated by the Promoter. On Instagram, this may include using a specific hashtag and tagging the Promoter's account. Failure to do so will result in an invalid entry.
All photographic entries will be judged solely based on the number of Likes (unless stated otherwise). All decisions made are final, and no discussions or correspondence will be entered into.
By participating in this competition, all submissions will become the property of the Promoter. Entrants give the Promoter permission to use their submissions for printing, social media, publicity and promotional purposes without compensation.  This including, but not limited to, the P'Nut website, all P'Nut social channels.
The Promoter reserves the right, at any time, to verify the validity of entries and the identity of entrants. Proof of entry and identity will only be deemed as sufficient at the discretion of the Promoter.
Winners will be announced via P'Nut page or blog, and will be asked to provide either their email address or postal mailing address. Winners will be given 7 days to respond to confirm validity and be awarded the prize. If the prize remains unclaimed after this time period, the Promoter has the right to deem the winner ineligible and review other entries and award the unclaimed prize.
The Promoter takes no responsibility for late, lost or misdirected entries. Incomplete, illegible or incomprehensible entries will be deemed invalid.
Prizes are not transferable or exchangeable, and cannot be redeemed for cash. The Promoter accepts no responsibility for any variation in the value of prizes, and is not liable for any additional costs associated with winning the competition, or the prizes that comprise this competition. Where a prize becomes unavailable for any reason, the Promoter reserves the right to substitute a different prize item of equal or lesser value, as determined by the Promoter.
If for any reason the promotion is not capable of running as planned, the Promoter has the right to cancel, terminate, modify or suspend the promotion at their discretion.